Drescher And RC8B Win Again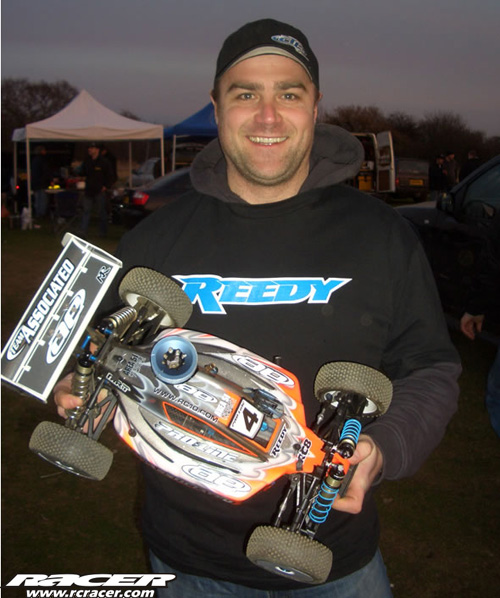 Craig Drescher took time off from impersonating Gary Barlow to win at the Coventry Winter Series
Associated/Reedy driver Craig Drescher took the win at the latest round of the Coventry Winter Series in the freezing conditions that have gripped the nation this weekend.
The third round of the Coventry Winter Series was a frosty affair and for those hardcore drivers that decided to race and braved the elements, it turned out to be a fresh day. When much of the country was under snow it was Coventry that came up trumps with a great days racing, proving once again what a versatile and fun track it is. Everybody chipped in to clear the ground frost with brooms squeegees and once this was cleared it was back to racing as normal.

Surprisingly, the freezing conditions made it the driest race of the winter series so far. It never warmed up enough to defrost the track but the traction stayed good throughout the day. Times were less than 1.5 seconds slower than the previous round with some very cool power slides taking shape.
Craig piloted his RC8B to TQ in qualifying, and went on to take the win in convincing fashion. The battle behind Craig was very interesting however, with Alex Mortimer (RC8B), Chris Doughty, Matthew Lewis and John Howells (Hyper 9) battling it out. Alex was at the head of the pack until right at the very end when Chris managed to sneak through for second. John and Matthew had a good battle with John coming out on top after the hard charging Matthew broke his car after a very hard impact.
So another good win for Craig and the Associated RC8B in some very testing conditions!
Source: CML Distribution