Tyler Vik Takes ROAR 1:8 Electric Title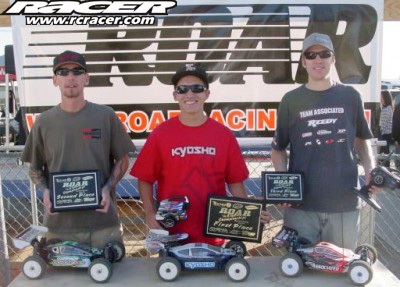 The first ROAR Electric 1:8 Scale Championships were held November 28-29 at Revelation Raceway in Ontario, CA.
Kyosho Factory Driver Tyler Vik was in attendance at the first ever event. Tyler raced at the Kyosho Fall Classic the week before on the same track and was back for more.
After the dust settled, it was Vik who came out on top winning the ROAR 1:8 Electric Open Buggy Championship with his Kyosho MP9 equipped with Kyosho's 1:8 Scale Inferno Series Brushless Conversion Kit (Item# IFW451).
Buggy Open Pro
1. Tyler Vik     Kyosho MP9
2. Jeremy Kortz
3. Brent Thielke
4. Barry Baker
5. Kevin Jelich
6. Shaun Kirkman
7. Austin Blair     Kyosho MP9
8. Jonathan Hernandez
9. Chad Bradley
10. Josh
11. Brian Sullivan
12. Chris Jarosz
Source: Kyosho America