Skyrocket Racing RMS Motor Measurement System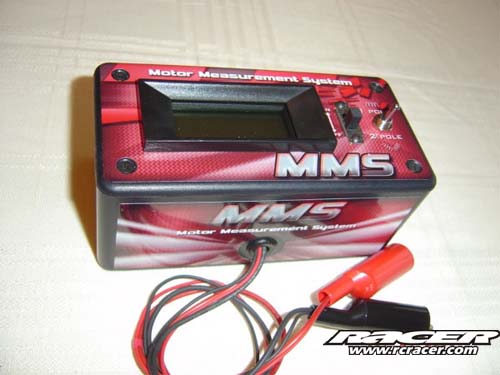 Introducing the New Motor Measurement System (MMS) from Skyrocket Racing.
For years, RC racers have searched for speed knowing that the manufacturers and sponsored drivers had an advantage you would never have. The best batteries, the best tyres and of course the best motors. The RMS-1 helped level the playing field allowing you to pick the best rotor from your collection giving you more horsepower and better performance. But the rotor is only half of the story. What about the Can? The factory teams have $500 meters to measure the windings and pick the best Cans but now you too can get the most from your brushless motors with the NEW MMS Motor Measurement System from the Company that brought you the easiest to use and most repeatable Rotor Measuring Tool, the RMS-1. The MMS is a revolutionary device allowing you to measure the resistance of your Cans to give you the best combination of motor components to put you in the Winners Circle.
Imitation is the sincerest form of flattery and the RMS-1 has many phantom imitators, but the revolutionary MMS stands alone to give you the advantage you need to get the most out of your brushless/lipo racing.
The MMS measures the resistance of the motor winding(s) and comes ready to go with a 3½ digit LCD that can measure winding resistance from 0.1 to 399.9 milli ohms. Readings can be done with the motor in or out of the car or the rotor in or out of the motor. The MMS has two operational modes Single Pole or Two Pole. Use the Single Pole mode when the motor is apart and measuring each coil independently. Use the Two Pole mode for a quick reference check to make sure the motor is the correct winding. (Great for Tech inspection!)
To measure the resistance of a motor connect the MMS leads to the motor windings via the solder tabs. To measure from phase to phase move the leads to obtain your resistance readings (A-B, A-C and then B-C). To measure the resistance of each motor winding individually (Single Pole) disassemble motor and measure from the centre ring to each motor winding solder tab.
In any arrangement the MMS will read the milli ohms of the motor windings. The lower the reading the bigger the horsepower!
The MMS comes with a full 90 day warranty against manufactured defects and Skyrocket Racing will have a database for motor results online soon.
RMSMMS    Skyrocket Racing RMS Motor Measurement System    $79.99
Check out the video of the MMS in action by CLICKING HERE
Source : Skyrocket Batteries