The Once Over…Losi Ten-T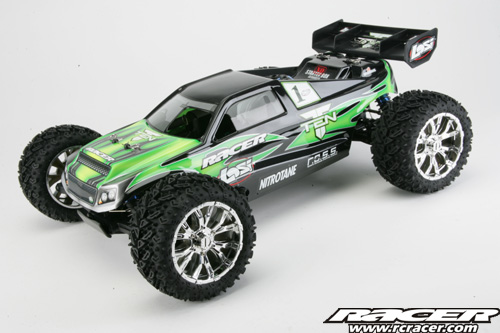 Sometimes you sit there and think….why have they done that? We see most of the major releases here at Racer and have had no end of derivative cars. What I mean is we almost are at the point where we have defined scales for various things and one such thing is truggies. These, as they were when they came out, 1:8 racing truck derived buggies, hence their slightly tacky and pikey moniker (IMHO). So…does this transfer across scales? At first I thought not but delving further into Losi's new Ten-T, I'm not so sure…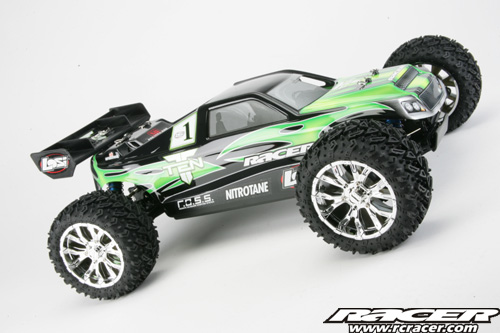 To be fair, I'm not sure about a lot of things, but that's another story, seeing as I'm easily confused. But one thing is straight, what is defined as a truggy is basically a 1:8 scale race truck. So where does the Ten-T fit in seeing as it is 1:10, the answer is it doesn't. It is aimed at a completely different market…Fun, and from this Once Over, it should deliver this in a far less cumbersome (ace word, awards self chocolate bar), package for running over the park and general thrashing about.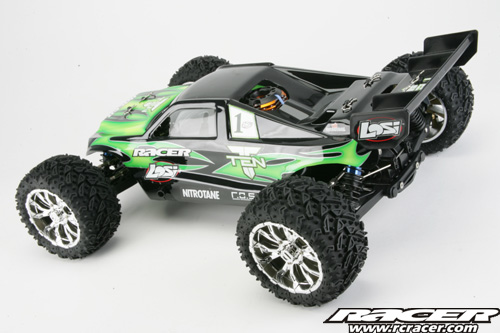 So what makes the Ten-T different from all the other scaled down four wheel drive truggies? The blunt answer is plenty. It has a simply awesome specification on paper and even better when you eyeball the actual truck. In short, I haven't even run it yet but you just know it's going to be good. Just take a look at the chassis, it's a no compromise job. Rather than a parts bin special, this is, to all intents and purposes a Losi 8ight-T that's been done on a hot wash and shrunk to 1:10 scale. Virtually all the same features are there, even down to the offset pinion for the rear diff. And the positive thing is that everything on the Ten-T looks good and strong. Check out the chunky wishbones that look like they could support a bridge. Also pay attention to the images, you can see that the materials used have been used for a reason, strength and reliability. After all, what use is and RC car if you take it out and smash it to pieces driving and ramping it off jumps like a five year old after too much Sunny Delight accidentally bash something and break it first time out. The Ten-T looks to be built tough.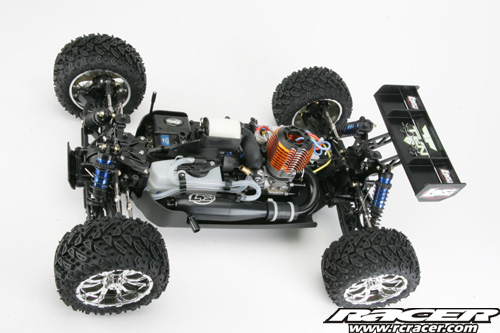 So the Ten-T looks to be thoroughly up to the job. It looks like the pit bull of the RC basher world, but it's so much better than that. Spec is what counts and the Ten-T is dripping like a sodden dog in this respect. Not only does the chassis package rule the day but check out the radio. It's a Spektrum 2.4GHz DX3S system, no surprise really as both companies stay dry under the Horizon Hobbies umbrella, but it ain't no basic system. Oh no, telemetry lives with the Ten-T. Check it out, we haven't yet as we haven't run the Ten-T but from powering it up on the bench we know you will get RPM and engine temps as a basic. How clever is that…far cleverer than me fo sho…check out our forthcoming running test on this here interweb site when we will show you more that it can do. We would have incorporated the running report in this here prose, but since it started snowing as I was doing the studio shots, this wasn't going to happen. Because it's cold, and I don't like pneumonia.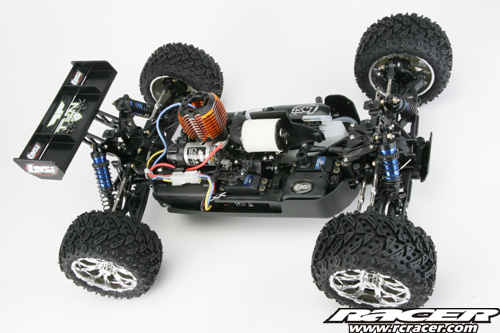 Power is nothing without control. However, some say there is no substitute for power. Now I'm confused again…see, told you, easily confused. Anyways, it appears that the Ten-T has both. Check out the 3.4cc powerplant. Most truggy drivers seem to be opting for a 3.1cc engine in their race trucks. This is 3.4cc. Oh and it's 1:10 scale and hence not a porky overweight. From this we can deduce that the Ten-T will fly…having not stripped down the mill I can't say what's inside but from outside, the workmanship and quality looks to put some race engines to shame. A nicely made lump for sure. If it goes as good as it looks, it's gonna rock. Add in the fact that it's got an on-board starting system, it doesn't even need you to attach a glow starter as the Ten-T's system sorts it via a button on the transmitter making it ridiculously easy to use. Basically anything that stops me bending down is a good thing because this is exercise. And all sensible people know that exercise is the work of the devil.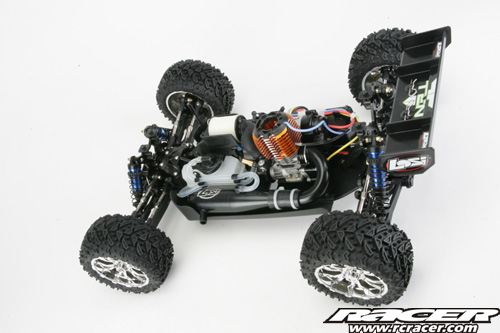 That's enough words for now, unfortunately the boy Joe is going to do the full review that will appear in a forthcoming issue of Racer magazine. The only reason I say unfortunately is 'cause I really want to keep hold of the Ten-T for meself…it rocks. For now, lets let the pictures do the talking and check back here soon though on www.rcracer.com for the running report, as soon as the snow clears…!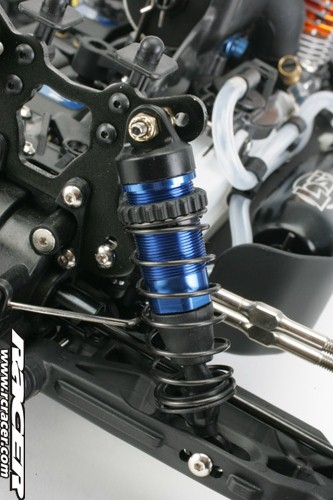 The TEN-T's big-bore, 12mm machined aluminium shock bodies are anodised blue for smooth operation and wear resistance. Threaded shock collars offer easy yet precise adjustment of pre-load and ride height. And to give you a smooth ride and optimum handling, Losi created shock pistons and bladders specifically for the TEN-T's chassis design and weight.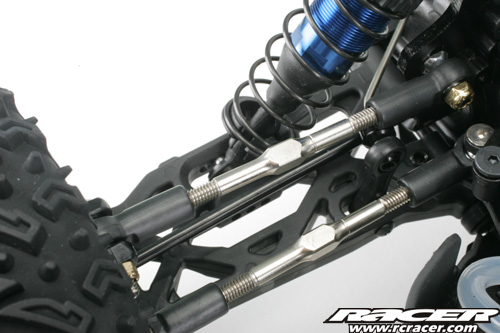 The Losi TenT is built for strength as well as performance. Check out the beefy wishbones and strong turnbuckles complete with captured tie-rod ends.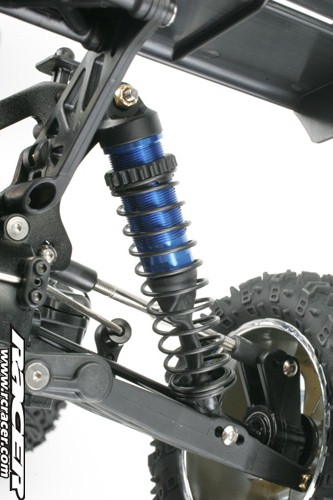 Rear end has more of the same, big bore threaded shocks and strength in abundance. Notice the kit stock anti-roll bar.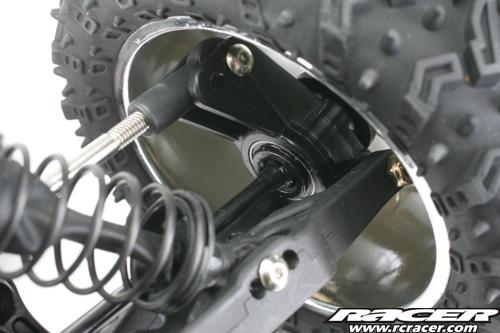 More from the rear, CVD driveshafts which use the hub bearing to retain the pin.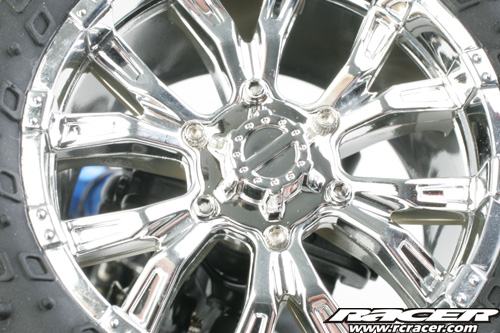 These wheel nut covers could be viewed as being blingy and gimmicky. Others may see them as looking cool. Maybe Losi could have shaved a couple of quid off the street price by just being simple…however, I must agree with Losi here, cool rules.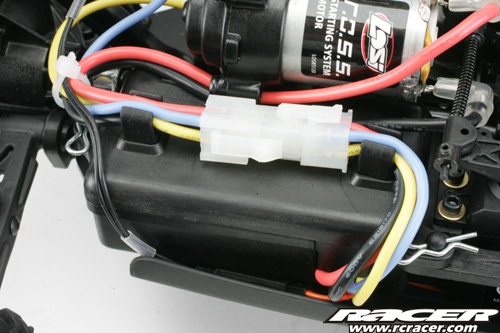 This box houses the LiPo pack that not only powers the radio system but also the on-board R.O.S.S. strter system  for the engine too. Lots of wires but don't concern yourself with them, they are all important and make the Losi Ten-T a very good thing indeed.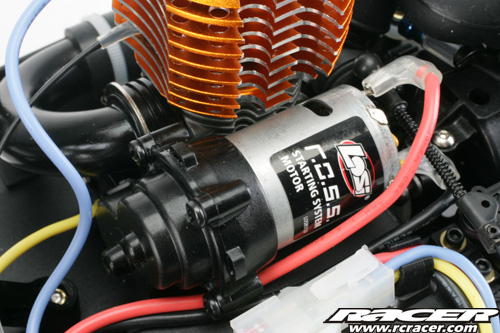 This is the motor that fires the engine. I like this because it saves the Ten-T being a pull-start engine. Pull-starts are exercise, please see main text for my feelings on this.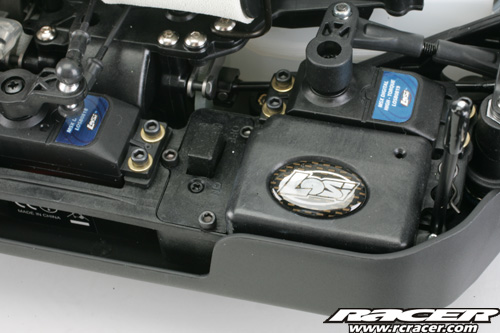 The design of the Ten-T mirrors its bigger brother the 8ight-T. Even the radio components are situated in the same places.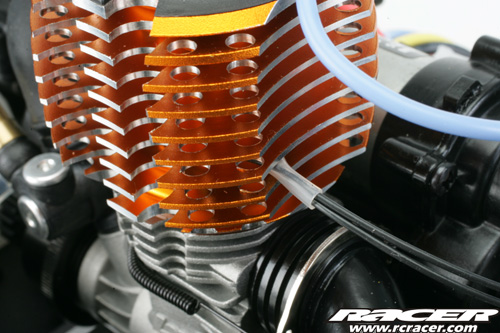 The 3.4 powerplant. Check out the nicely machined head on the engine. Also notice the three wires; the big blue one for the glow plug power feed for the starting system and the two smaller black ones. These are to the temp. sensor for the telemetry. Uber clever.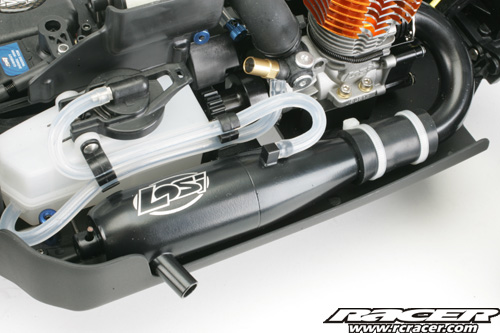 The Ten-T comes complete with a tuned pipe to release the most power from the 3.4 engine.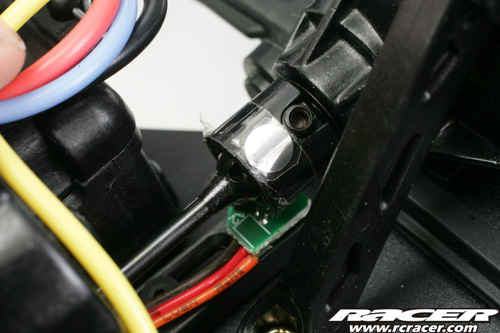 This silver dot on the driveshaft input is the mark the RPM sensor (PCB underneath) takes its readings from. Worried about the strength of the fixings and add ons? Don't worry, I prodded the PCB with my biggest, strongest digit and it's firmly located.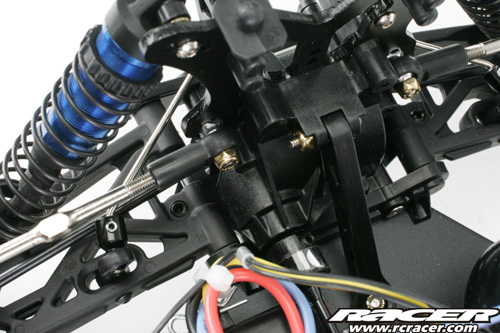 The rear gearbox is braced to the main aluminium chassis plate by a plastic moulded brace.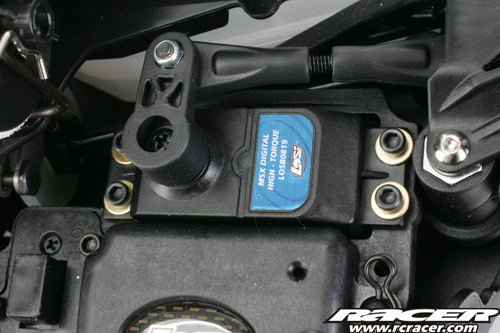 Servos in the Ten-T are Losi branded and digital. This high-torque unit takes care of the steering.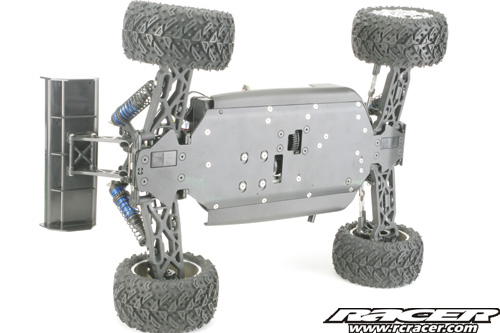 From the underside, you would think that the Ten-T is a 1:8 truggy, it is that well built.
Side guards are high and should help stop dirt and rubbish getting under the bodyshell. Hopefully.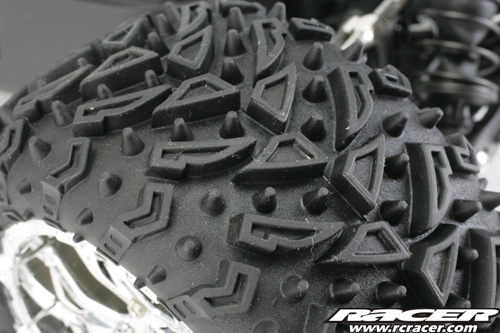 The stock tyres should give a good balance between grip and wear, even on hard surfaces.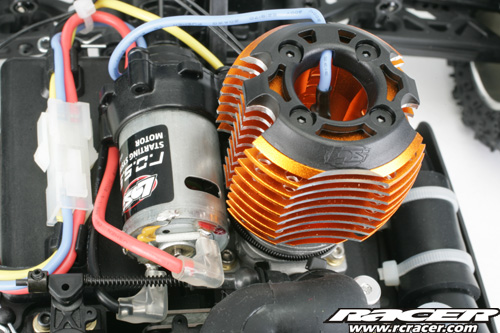 Another view of the R.O.S.S. on-board starting system and 3.4 engine. Notice the plastic protector on the head to help prevent damage during rollovers and stupidity.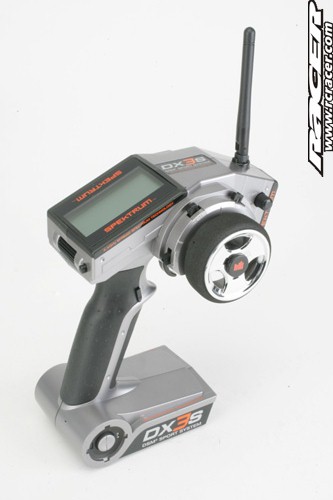 The DX3S Spektrum transmitter. This is a very clever bit of kit. Far cleverer than you or I…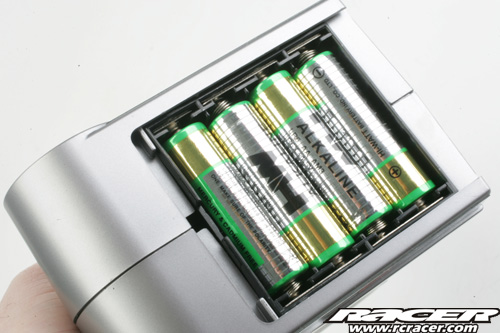 The DX3S transmitter only needs four AA cells to power it. These are even provided with the Ten-T!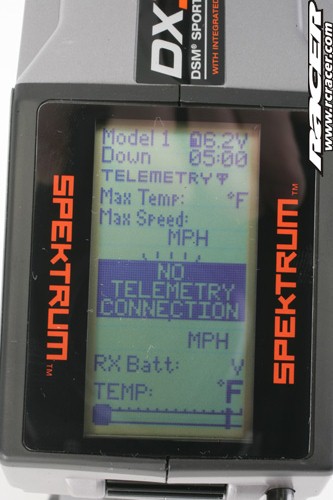 Telemetry…see told you it was clever. When the Ten-T is turned on a whole host of info is available. We'll tell you about this in our running report. Oh yes.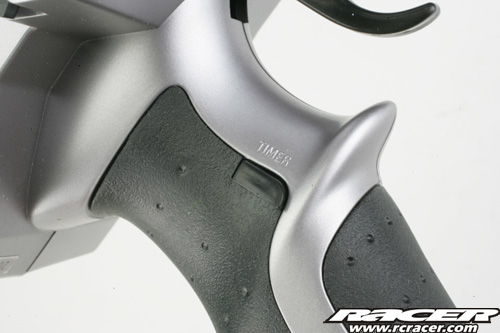 Race bred features are here too. A race timer button is incorporated in the transmitter.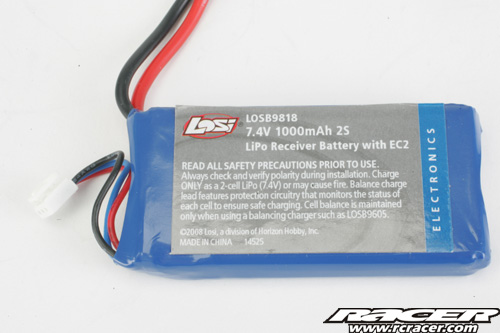 This is the LiPo pack that lives on-board the Ten-T. Not only powering the radio system, it also gives power to the R.O.S.S. starting system.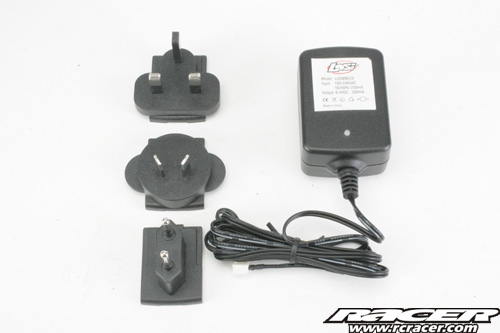 Losi include a universal charger for the LiPo pack. Adaptors are provided in the box for most common countries. You can even take your Ten-T on holiday with you!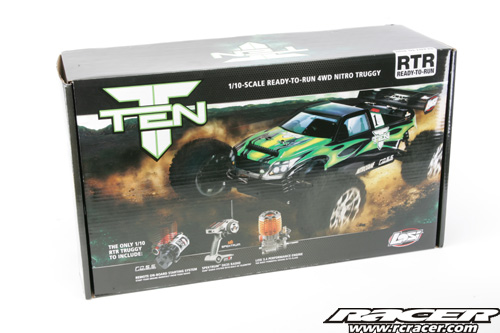 Losi Ten-T Features
Lightweight black anodised aluminium chassis
Oversized 12mm anodised, threaded shocks
4mm tie rods with captured ends
Losi digital steering servo for precise, powerful steering
Twin disc brakes for quick and reliable 4 wheel stopping
Large-capacity 75cc fuel tank for longer run times
Tank clunk for fuel pickup even when rolled over
2-shoe centrifugal clutch
320-series Zombie Max tyres mounted on chrome 320 Force wheels
Losi 3.4cc performance engine with slide valve carburetor
High-performance tuned pipe designed to maximize the 3.4's potential
Two-stage air-filter system to ensure a clean air intake
Sway bars included for better control and handling
R.O.S.S. on-board ROSS starting system
Specification
Type: Truggy
Scale: 1:10
Length: 450.85mm (7.75 inches)
Width: 342.9mm (13.5 inches)
Wheelbase: 298.45 – 301.625mm (11.75 – 11.875 inches)
Weight: 2.812kg (6.2 lb)
Chassis: Black Anodised Aluminium
Tyre Type: 320-Series Zombie Max
Engine: Losi 3.4 Performance Engine
Radio: Losi Radio System with Spektrum 2.4GHz DSM Technology
Batteries: 7.4V LiPo Receiver Pack (Included)
Charger: LiPo Wall Charger (Included)
Kit/RTR: RTR
Body: Pre-Painted and Decorated; Available in Green or Orange
What You Need On Top:
For more information, visit the Losi website by CLICKING HERE or the Horizon Hobby UK site by CLICKING HERE. Watch out for the full Thrash Test review in Racer magazine soon.