Matt's Associated RC10B4 – April/May 2010 Update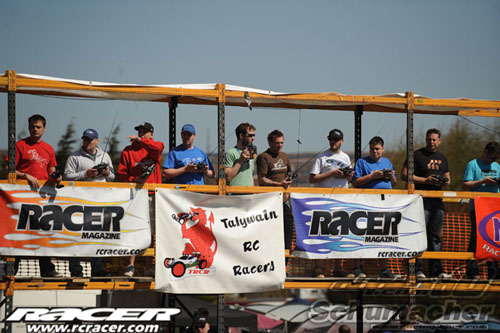 April and May saw the first and second rounds of the BRCA 1:10 Off-Road Nationals take place at Talywain and Robin Hood Raceway respectively. These two tracks are both Astroturf and whilst Talywain is a fairly unused venue and quite neutral, RHR is very popular and there are some very fast guys around there. Last year I made the B final at Talywain and a C final at RHR, but felt that I didn't perform to my best.
Since the indoor season finished with the Petit RC race and the British Winter Open Championship, I thought long and hard about my 2WD set-up and ways of making it better. I focussed on the new 4WD in the winter of 2008-9 and my 2WD results and set-up suffered. LiPo caused me all sorts of problems so I was keen to get a better base set-up for the established Associated RC10B4 chassis.
For Talywain, the 7.5T motor had to come out and was replaced with a 6.5T one from the same range, The Speed Passion speed controllers are very smooth so the increase in performance was not too much of a concern. The gearing was dropped to suit as we had been going up and up over the winter to try and achieve the greatest top speed. One of the other key changes was to remove the RudeBits 72g under servo brass weight for one of the 36g versions. From the outset, I always thought that the original brass weight was too much compared to the brass front block that was being removed, although its effect being further centralised would be less. After much deliberation, it seemed that Tony at RudeBits had made the same decision and in fact to test the theory, had cut a 72g one in half. So he kindly sent me down a thin plate and we replaced the thick one. I left the 125g lead plate under the battery along with a 12g brass weight in each side of the rear triangles. So with new gearing and revised we headed to Wales. From the outset, it was clear that this was a good base setting and I enjoyed a good day at Talywain. Making the B final was as fast as I could go and this was reflected in my qualifying results with an 11th, 12th, 10th and 13th. That meant qualifying third in the B final and finishing 14th so a strong start for me.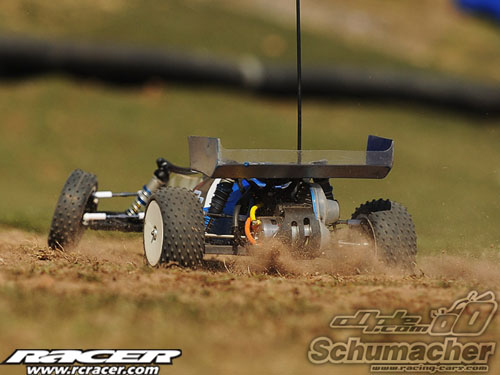 Round two took place at RHR and to be honest, I wasn't looking forward to it but I was determined to have a better mental approach. The in-board motored chassis' are certainly going very well at the moment, but Lee Martin has proven with the Tamiya that they are not unbeatable even on tracks that perfectly suit them. After having enjoyed the first round the set-up was left the same for RHR although the high-grip and nature of the track meant that making the car easy to drive would be paramount. I started the day out on Ballistic Buggy tyres as it was a little damp and although these tyres were fitted for round one, they were not right and 14th in round was all that could be achieved. Round two saw the move to Schumacher Yellow Mini Spikes and the car was better, but still hard to drive and I was only 15th in round. Last year, Tom Cockerill won on Schumacher Stagger Ribs and so these were fitted for round three. I found that these were more forgiving and were better when crossing over from one type of Astroturf to another, which is a challenging feature of the track. Fourteenth in round three then with the same set-up I was only 20th in round four after too many errors on my part. That said, I qualified 7th in the B final and the best result for me to date at the venue.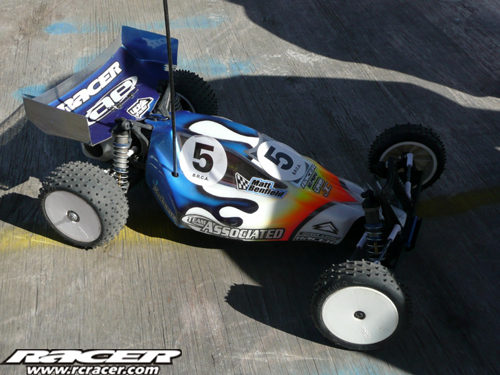 During the day, I learnt that some of the Associated team drivers had been playing around with moving the motor closer to the rear axle by fitting a smaller spur gear. Darren Boyle of X Factory UK was present at RHR and offered me a choice of spurs that they are selling so I found that a 75-tooth item was the smallest I could mesh with the 24-tooth pinion. Some others have been using even smaller gears, but this means modifying some gearbox parts and I didn't fancy this so I kept it simple. At the same time, I also replaced the slipper pads and plates as this is well worth it as they can quickly become glazed over. The smaller spur certainly aided top-end although it was hard to distinguish the weight change in the final, especially as I continued driving badly…
The next stop on the National Championship is Eden Park Raceway and one track that I know quite well… Below you will find my final set-up after Robin Hood where I really felt that the set-up has been the best for a long time.
Thanks to Jimmy at www.oople.com for the photos.
Matt's Associated RC10B4 Specification
Car:     Associated RC10B4
Radio: KO Propo Vantage III Universe
Receiver:         KO Propo KR-302F
Servo:  Spektrum H6040
Speed Controller:        Speed Passion Pro GT2.0
Motor: Speed Passion Competition 3.0 6.5R
Batteries:         Speed Power 5300 45C
Charger:          Much More ACDC Silent Charger Platinum LCD
Gearing:          24/75
Set-Up
Front Suspension
Oil:      35wt
Piston: Associated #2
Spring: Associated Silver
Anti-Roll Bar: None
Shock Position Mount:           Middle
Shock Position Wishbone:      Inside
Caster Block:  30-degrees
Rear Suspension
Oil:      30wt
Piston: Ghea #2
Spring: Associated Silver
Anti-Roll Bar: None
Wheelbase:      Medium
Anti-Squat:     2-degrees
Shock Position Mount:           Inside
Shock Position Wishbone:      Inside
Notes
Schumacher Yellow Mini Spikes
Front soft insert
Rear soft insert
RudeBits brass weight (36g) under servo
RudeBits brass weight (12g per side) in rear of chassis
125g lead plate under LiPo
Thanks to everyone who assists me with my racing including:
CML Distribution
Horizon Hobby UK
JConcepts
LRP
Much More UK
P-Dub Racing
RudeBits
Schumacher
Speed Passion
Trishbits
Upgrade