Matt's Schumacher CAT SX – April/May 2010 Update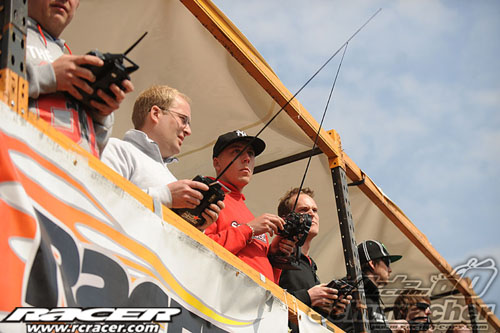 My last instalment saw me tempt fate about how I would be writing about the new version of the CAT SX called the SX2. Unfortunately, that isn't the case and the magazine continues to wait for a sample to arrive for review. Although some shops have had their stock, there is still a huge back order at the factory waiting to be fulfilled, highlighting how popular the CAT SX model has been. So for this month, it's all about the first two rounds of the BRCA 1:10 Off-Road Nationals and outdoor racing rather than in.
Before I do this, I have to admit to making a bit of a fool of myself. There is a well-known phrase that says, "Do as I say, not as I do." Prior to the first National Championship round at Talywain, my local club Eden Park Raceway decided to host an Easter race meeting. Timing-wise, this was ideal as a chance to run through some final checks of the cars before taking them to the first major outdoor race of the year. I was acting as Race Director for the day and decided to run in both 2WD and 4WD, although I would not participate in all rounds, as I only wanted to ensure nothing was wrong and therefore carry out the minimum amount of cleaning and maintenance during the week. Well hindsight is a great thing and after battling it out for the front row of the grid and tweaking the set up, I raced both cars in all rounds and the finals. Unfortunately, I failed to complete either final, breaking both cars very badly (after two high-speed crashes on the straight) and taking them home in a bag of bits. The worst thing was that I had told lots of people that this was the scenario I was trying to avoid and there I was, looking very stupid and feeling pretty silly too!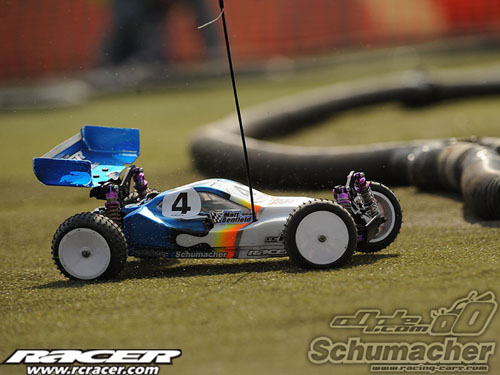 These two errors saw me having to work on my cars on Sunday night in preparation for leaving for Wales on the Friday. Last year, the club hosted its second National and their first on their permanent Astroturf track. In 2008, I didn't enjoy the event as much as in 2009 as the grass surface is unique in being quite shallow, as the ground there has been recovered from old mining areas. Underneath the grass is quite a hard shale-type material and this means the top surface isn't that strong and wears quite quickly.
In 2009, I had a good meeting and made the A final with the new CAT SX so I went to the 2010 event with fond memories. Although I started out with the set-up as I finished the club race the week before, I ended up reverting to some of the settings that proved to work so well in 2009. I softened the rear oil due to the bumpy nature of the track and then trimmed some more spikes off the front and rear tyres to make the car easier to drive and less chance of it grip rolling. In qualifying, I finished seventh, eighth, sixth and sixth in the rounds to qualify eighth. Three good finals were I elected to drive steadily and wait for others mistakes saw me finish seventh overall with a best leg finish of fifth in leg three.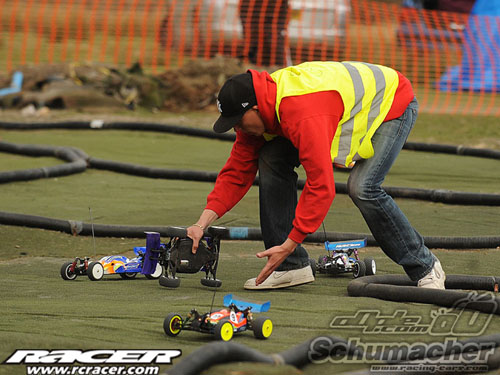 After a positive start to the year, it was a trip north to the Robin Hood Raceway in North Nottinghamshire for round two and a track that I struggle with. The track is mainly Astroturf with movable corners that allow a huge range of layouts and track designs. My only gripe is that the Astroturf is laid in long runs and often corners feature two or possibly three changes of Astroturf type meaning it's really hard to be consistent. The whole of practice was about learning the track, and trying to dial out grip. The challenging layout meant you needed a car that was easy to drive and for me, that meant dialling out steering. Apart from ensuring the shocks were free of air for each run and that I trimmed the spikes off the tyres, I also over-filled the front shocks to reduce a little front-end. Apart from this, the proven standard set-up on the CAT SX was the same as at Talywain.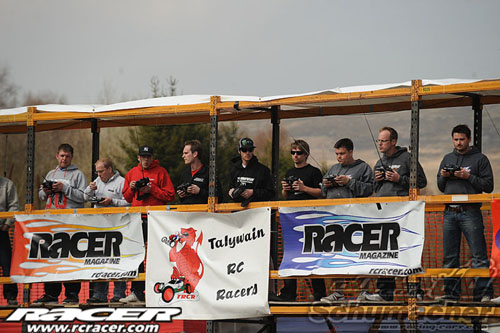 In all honesty, I was never going to have the pace of the leaders and making the B final was a result for me. Throughout qualifying, I struggled until the last round where I just missed the extra lap despite a coming together with another car after passing them. I am unsure as to why I drove better. My qualifying results saw me take 20th, 15th, 17th and 11th in the rounds and that meant fifth in the B final. I seem to be a little stronger mentally now so I wonder if I just relaxed for the final qualifier or maybe a little more wear on the tyres suited me – I don't really know, but I was more than happy with 15th overall.
Repeating Saturday's poor final performance, the same happened on Sunday. After a good start, I undid all of my hard work and dropped to the rear of the field where I pretty much stayed. That said, an A final and a B final from the first two rounds is a good start and I hope things continue like this at round three and my home track of Eden Park Raceway.
Thanks to Jimmy at www.oople.com for the photos.
Matt's Schumacher CAT SX Specification
Car:     Schumacher CAT SX
Radio: KO Propo Vantage III Universe
Receiver:         KO Propo KR-302F
Servo:  Spektrum H6040
Speed Controller:        Speed Passion Pro GT2.0
Motor: Speed Passion Competition 3.0 5.5R
Batteries:         Speed Power 5300 45C
Charger:          Much More ACDC Silent Charger Platinum LCD
Gearing:          23/83
Set-Up
Front Suspension
Oil:      
40wt
Piston: Three-hole drilled to #55
Spring: Schumacher Grey (old)
Track Washers:            1mm front and back
Anti-Roll Bar: None
Shock Position Mount:           Middle
Shock Position Wishbone:      Middle
Front Rake:     10-degrees
Caster Block:  10-degrees
Washers:          0mm
Front Link Bracket:    38mm
Washers on Hub:         0 (hub carrier trimmed down level)
Rear Suspension
Oil:      30wt
Piston: Three-hole drilled to #54
Spring: Schumacher Red (old)
Wheelbase:      Short
Toe In: 3.25mm
Anti-Squat:     1.3-degrees
Rear Link Bracket:      37.5mm
Washers:          3mm
Shock Position Mount:           Middle
Shock Position Wishbone:      Inside
Hub Position:  Middle
Anti-Roll Bar: None
Transmission
Rear Diff Height:        Low
Front Diff Height:      Low
Layshaft Pulley:          One-way
Front Drive:    Diff
Gearing:          23/83
Internal Ratio: 23/33
Notes
Schumacher Yellow Minipins
Front firm insert
Rear soft insert
Diaphragm centre cut out and removed
130g lead plate under chassis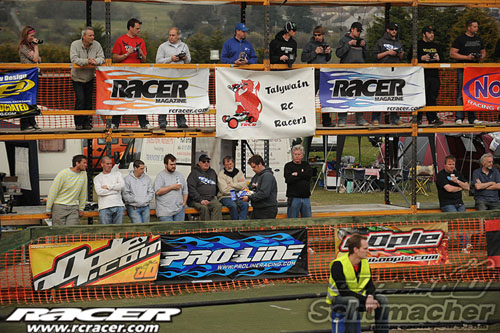 Thanks to everyone who assists me with my racing including:
CML Distribution
Horizon Hobby UK
JConcepts
LRP
Much More UK
P-Dub Racing
RudeBits
Schumacher
Speed Passion
Trishbits
Upgrade