RC Parts Appeal To Help School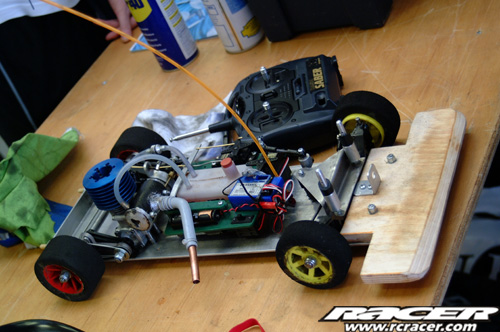 Teacher is appealing for donations of RC parts to help students with one-week project of building electric RC cars. Can you help??

News has reached rcracer.com of an interesting and worthwhile project being put together by science teacher Tiyen Miller. Here he takes up the story, if anyone out there can help with donations of old RC equipment, please send it to Tiyen at the details given here at the end of the article…
Many of you will know that I am a secondary school science teacher in an inner-city comprehensive school in Central London (www.sccs.camden.sch.uk)
In July, I am leading a one-week project for 20 students from ages 12-15 to design, build and race radio race cars.
The aim is for the students to build 5 cars of their own design from used components. Then, they will race them around the school quad on the last day of term in mid-July.
The majority of the boys and girls are from very disadvantaged backgrounds, and few have yet had any experience with RC cars or equipment.
Though they will run "mildly off road", the cars will likely be of extremely simple design – perhaps along the lines of Mardaves with a plywood chassis with simple bent-wire tie rods to a steering servo and kingpins made from a nut and bolt through the chassis. I'm hoping to scrounge up drive train components from bits of old buggys or on-road cars – I've got a couple of old Falcons to cannibalise for starters.
At the moment, I have enough radio Txs, Rxs and NiMh cells for the 5 cars, and enough "bits" from odd scraps of old Tamiya cars and spares from my racing cars etc to build at least two cars. I've also got a very limited budget of about 200 pounds to spend, but I know that can only go so far…
An Appeal
I would greatly appreciate the donation of any RC parts or assemblies that you might be able to contribute – new, old, surplus, broken… any and all bits are useful
Most useful would be:
Whole vehicles – even toys
Basic tools – like "tamiyatools", kit allenkeys, and small screwdrivers or pliers
Basic ESCs for brushed motors. (eg. Tamiya 101bk)
Basic servos
Silver can motors
Any sort of motor pods" with axles – simple on-road stuff would be great, but even the broken back half of a grasshopper or something would be excellent.
Front end parts, especially steering blocks with bearings and wheels.
Literally any sort of RC-related parts would be appreciated – the kids are quite imaginative!
If you can help out, it would play a big part in helping to make this great project more fruitful for these young boys and girls, and you can know that your spare parts that may be collecting dust will be put to good use inspiring the creativity and learning of young people!
The benefits that the students will gain from the project are immense: teamwork, applying maths, design and technology skills, scientific testing, developing eye-hand coordination, and the sense of accomplishment from building up a car from scratch.
Thanks for taking a moment to consider what spare bits you might have around.
I attend most of the SE regional off-road events in the UK. Hope to see you there! Otherwise, items can be posted to me at the school's address below.
Tiyen Miller – Science Teacher
South Camden Community School
Charrington Street
London
NW1 1RG