Marc Rheinard And TRF416X Win 2010 IFMAR ISTC World Championships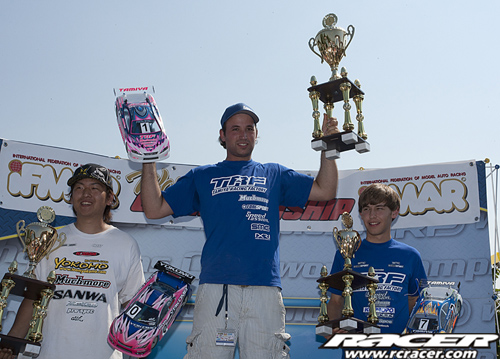 From left: 2nd place Hayato Matsuzaki (Yokomo), 1st place Marc Rheinard (TRF), 3rd place Elliott Harper (TRF)
The 2010 IFMAR ISTC Electric Touring Car World Championships were held from July 1st-3rd in Burgdorf (near Hanover) in Germany. Tamiya Racing Factory (TRF) was there in force, with Marc Rheinard laying down the gauntlet by taking the top qualifying position with his TRF416X. He then took full advantage by winning the first two A-Main finals to claim the world championship title. Having won the title in Thailand back in 2008, this win makes it two titles in a row for Marc and is also his third overall. This is also Tamiya's fourth world championship title, following wins in 2002, 2004, and 2008. Other TRF drivers also put in strong performances, with Elliott Harper taking 3rd place on a tie-break, Jilles Groskamp taking 6th place, and Viktor Wilck taking 10th place, thus giving Tamiya four Top-10 finishers.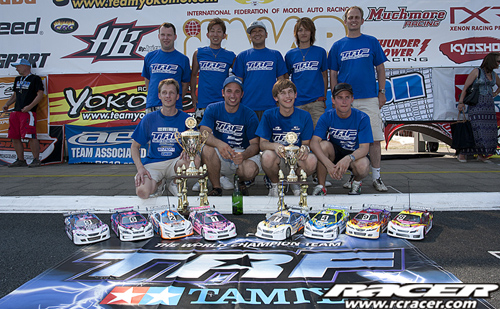 2010 IFMAR ISTC Electric Touring Car World Championship Results
1    Marc Rheinard    Tamiya TRF416X
2    Hayato Matsuzaki    Yokomo BD5
3    Elliott Harper    Tamiya TRF416X
4    Christopher Krapp    Kyosho TF6
5    Ronald Volker    Yokomo BD5
6    Jilles Groskamp    Tamiya TRF416X
7    Yannic Pruemper    Yokomo BD5
8    Paul Lemieux    Xray T3
9    Alexander Hagberg    Xray T3
10  Viktor Wilck   Tamiya TRF416X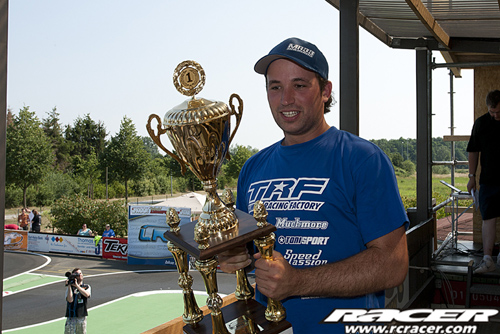 You can check out videos from the 2010 Worlds here on rcracer.com, CLICK HERE to be taken to our videos section.
Source: Tamiya