Hot Bodies Subaru Impreza Type A Body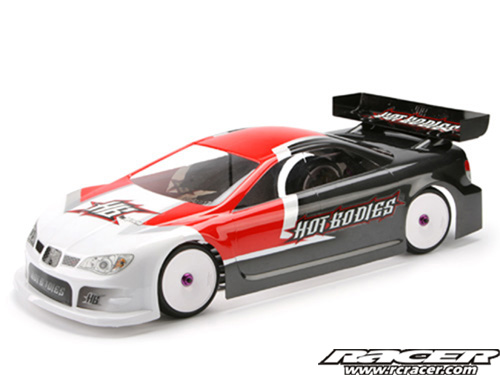 The HB Subaru Impreza Type A body was designed, tested, and proven on the race track. The HB design staff and team drivers tested extensively using several different body shapes and aerodynamic variations.
The result of the testing is the "Type A" configuration that outperformed the other versions in terms of aggressive steering response and high corner speed. The HB Subaru Impreza Type A is optimised for use with front spool set-ups found on most high performance touring cars.
High Performance Aerodynamic Features
The Type A body looks great, but it's not just about looks. The bulges on the front bumper gave the body quicker initial turn-in steering, and the spoiler on the read deck gave the body extra stability during track testing. There is a smooth front bumper with a large splitter for high downforce and high efficiency. The flat side panels offerconsistent stability on the track, reinforced to resist deflection at high speed while the large wing mounts transfer more downforce from the wing to the ground for increased traction.
Direct Fit on the HB Cyclone TC Chassis
Direct fit body post marks for the Cyclone TC chassis make mounting this body quick and easy. The calibrated marks allow you to cut the wheel arches forward or backward to match the wheelbase of your chassis. Also, extended mounting lines allow you to accurately move the body forward or backward on the chassis for fine tuning the handling of the car.
Standard Features
Crystal clear polycarbonate for light weight and high durability. Paint it with your own custom race colours!
Vinyl decals with headlights, grills, tail lights and official logos.
Window masks and overspray film to help make painting the body quick and easy.
Wheel centre marks help you cut the wheel arches for all brands of cars.
High downforce clear polycarbonate rear wing with multiple side plates and cut lines.
Wing mounting hardware and double sided tape for attaching the wing side plates.
Designed to meet the rules and regulations of racing organisations. (Check with your racing organization for a list of approved bodies)
Officially Licensed Subaru Body
The HB Subaru Impreza Type A (190mm) body is an officially licensed product that is based on the world famous Subaru Impreza.
For Maximum Performance…
The performance of the HB Subaru Impreza Type A will be maximised by reducing the gap between the body and the front bumper, especially on high speed race tracks.
#61737     Subaru Impreza Type A Body (190mm)    $25.00
Source: HPI Racing