BRCA Rallycross National Round 7 – The Champions Race!
Location: London
Track: Slough
Report: Rob Cuss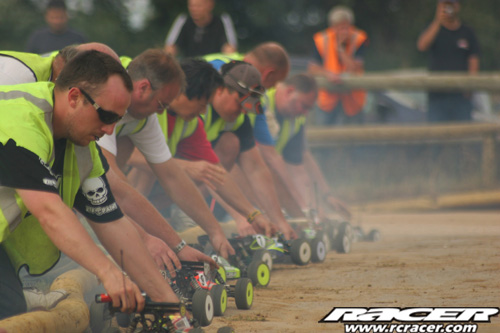 Welcome to the seventh instalment of this fantastic Rallycross series, held at Slough which to many is the home of UK Rallycross. The track itself is located in a big park and is on the approach to Heathrow Airport. The track has changed a fair bit since the 2003 Euro's but in its new guise I still think it is a genuine drivers track. Adrian Svensson and his crew of helpers did a great job of prepping the track and added a new hump on the back straight to slow the cars down a little.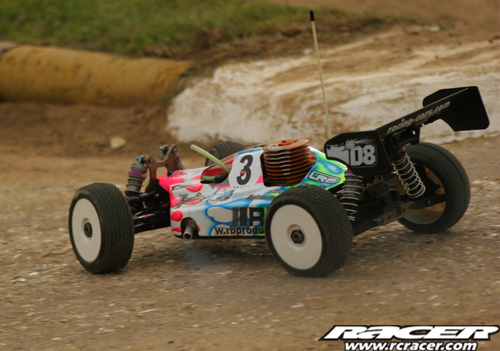 So who would be the favourites for this round? Darren Bloomfield was having a minor blip with a 4th at Pendle but we all know he can be super quick, Bootsie is always fast at Slough, Graham Alsop knows his way round this track blindfolded while upside down, Hazlewood was sporting a new whip in the form of the Agama A8 – he is also super quick round the flowing corners of the Slough track.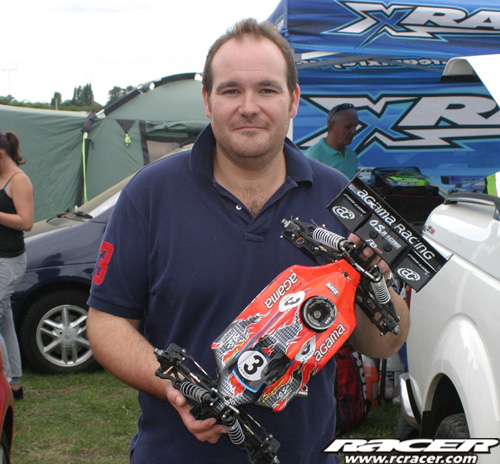 Craggy was looking quick at Pendle till a servo failure put him out, we all know his ability he just needs some luck. Willets with some super drives this year – could he feature?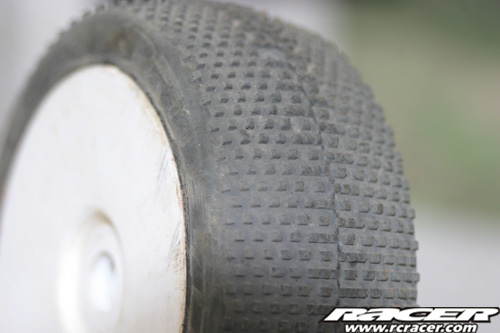 Tyres were a major decision as the track while super smooth was quite slippy so softer compounds were used and many drivers favoured the small pin tyres again for qualifying like the Holeshot, Gridiron or Double Dee. While fast, all these tyres required pinpoint precision.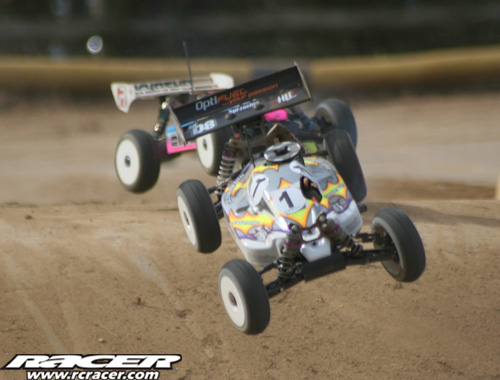 Qualification was all about Darren Bloomfield as he TQ'd all 3 rounds in fine style. His car was dialled, his driving was dialled he was sure to be favourite for the win and the title starting from pole. Second on the grid would be Neil Cragg, he had a dodgy 10th in the first round but came back with some stunning drives 2nd in round 2 and a 3rd in round 3, welcome back Mr Cragg. Starting from 3rd would be Graham Alsop, 5th in round 1, 3rd in round 2 and a 4th in round 3 for the local lad from Sheffield, was good to see Sloppy back in the top 3 after a quiet year.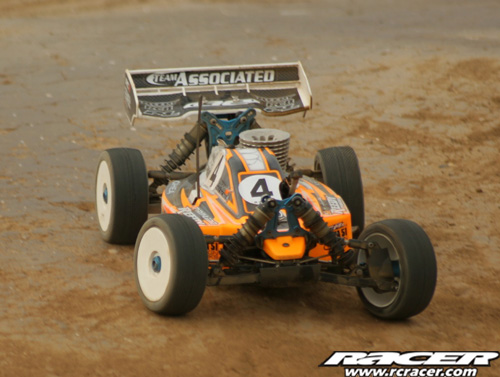 Craig Drescher would line up 4th which is strange because the AE boys said the car isn't normally this fast at Slough, it seems the boys had their Weetabix for breakfast. Craig had a 3rd,4th and a 7th.
Young Bobbity Ryan, Dreschers pit man looks to have sat on something uncomfortable…

In 5th would be Simon Willets who had a much better qualification session, he has fought his way out of a few B finals this year, Butch had a 4th,10th and a 5th while Bootsie was down in 6th which by his high standards isn't the best but we all know he has a warrior spirit and wouldn't take any prisoners in his quest for the chequered flag. Round 1 went ok with a 2nd but the 7th in round 2 and a 13th in round 3 didn't help!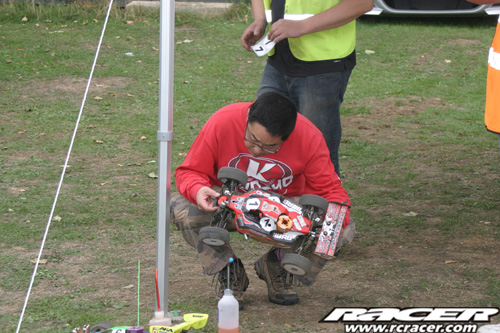 Tommy Chung had a strong drive for 7th, however he was caught by yours truly having a good look at Bootsie's car, Mugen next year Tommy? Tommy had a 8th,5th and a 6th. Reece Sawyer had a good drive for 8th with his Xray, to be honest this is long overdue Reece seemed to have his race head on this weekend, however some were saying he had magnets in his tyres and had been down to pop some metal under the track to keep his Xray on 4 wheels. Only Joking Reece – cracking drive kid!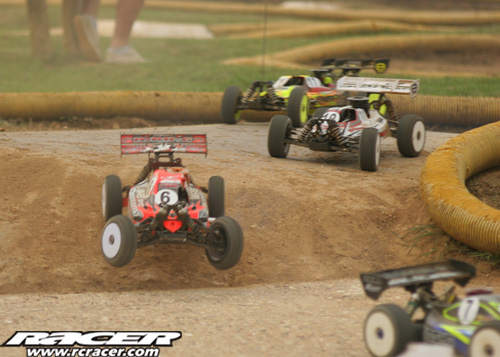 In 9th Jon Hazlewood was rocking the Agama A8 which was looking mighty fast considering it was it's debut meeting, good to see the Nut going straight into the A final, he was also sporting a kickass new paintjob which is by far the best he has ever had. Tenth was the Losi of Richard Cree with a great performance to stick in straight in the show.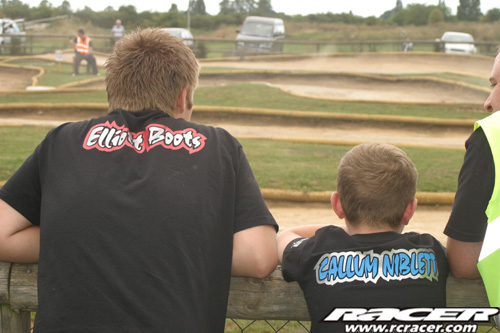 Finals
There was brilliant drives all through the lower finals with some cracking wheel to wheel racing, Jim Davis would bump up a few finals, winning his first and second final and a 3rd place in the G final, his finals day ended in the F final along with my race day, good job Mr Davis. Simon Reeves was the bump up king, bumping from the D final all the way to the A final with some cracking driving, the other 3 that bumped with Simon from the B would be Richard Barton who won it, Richard Taylor 2nd and our French friend Jerome Sartel who finished 3rd.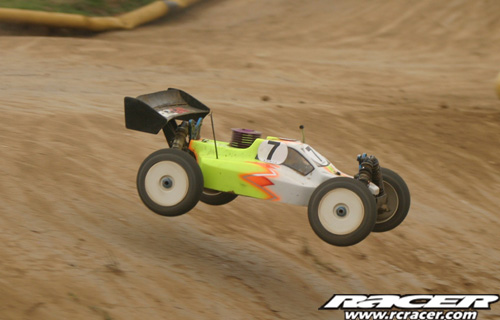 So onto the main final, and what a corker…
After some mayhem in the opening laps Neil Cragg led the pack from lap 2, with Sloppy, Willets and Drescher trying to chase the Neil's superfast RC8 down. So what happened to Bloomers? Well he was last with some major bobbles and having to be marshalled, dead last in fact with a ton of work to do. Bootsie also had a mare and was back in the pack, meanwhile Craggy was flying and had stretched a lead out over the 2 pursuers. Sloppy was driving well and was fending off Willets with relative ease. Bloomers had made a few spots back up the field as had Bootsie. First to retire was Jon Hazlewood on lap 1 with radio problems which was a shame after such a good qualifying session.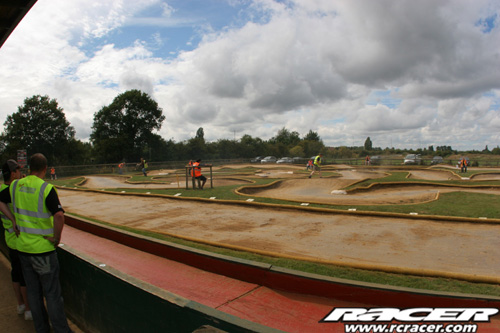 Simon Reeves was next to fall by the wayside as he retired on lap 14. Cragg was looking imperious at the front, Sloppy was sitting pretty in 2nd, Bootsie and Bloomers were charging hard. It was Bloomers who was quicker reeling in people and leaving them in his dust, Bootsie was chasing Bloomers down and following him through the pack, gradually they started catching the leaders.
Bloomers also had a good fuel strategy managed by Dave Spashett which allowed him to close in on the 3 front runners and take the lead for a few laps around lap 24.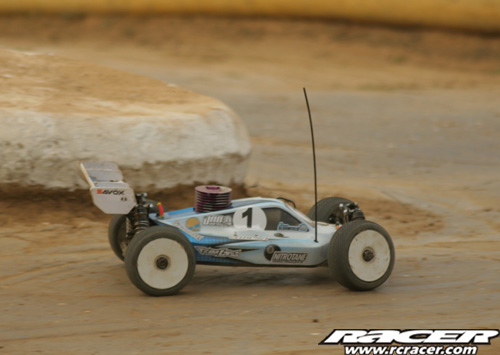 Craggy and Sloppy were still lapping fast but Bloomers was quicker and reeled them in again, he seemed to have much better grip than the boys in front, managing his tyres much like Valentino Rossi does in MotoGP. With Bloomers past 3rd placed Sloppy and in sight of the wing of Craggy he popped it up and gear and within a lap he was on him. Craggy was struggling with grip as his tyres went off which allowed Darren to blast right by for the win with a astonishing drive, Sloppy got the better of Craggy in the closing stages to take 2nd with Craggy taking 3rd – Bootsie came in 4th after a hard drive. Richard Barton was 5th, Richard Cree 6th, Jerome Sartel was 7th, Simon Willets 8th, Craig Drescher and Tommy Chung rounded out the top 10.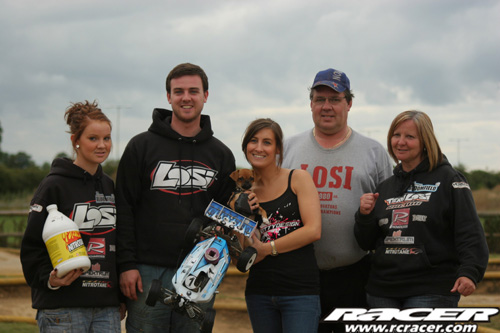 Congratulations to Darren Bloomfield – your new BRCA 1:8 Rallycross National Champion!!
What a great national – with 1 round left at Herts and the title won, can yours truly make his season goal…a humble E Final, oh and who will 2nd and 3rd in the championship go to???
{gallery}gallery/aug10/brcaslough{/gallery}