Pro-Line Desert Militia Clear Body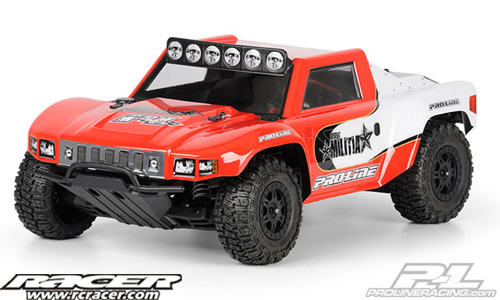 This is a Pro-Line Desert Militia Clear Body. Become a desert class mercenary hunting down the competition with the Pro-Line Desert Militia body for SC trucks.
Just imagine that you have landed a sponsor in the high tech weapons industry. Money is no object! You have chosen to build the ultimate open class race vehicle resembling a military strike fighter. The vehicles cab is an off the shelf reconnaissance vehicle, you then hang race inspired composite fenders to clear the oversized race tires and massive suspension travel. The back of your vehicle has been enclosed with aluminium quick release panels to hide the spare tyres, fuel cell and oil coolers. Large cooling fans are exposed to relieve the heat that the 900HP drive train produces but are protected by a sleek tubular cage. A final touch is the full width roof mounted light bar consisting of 6 high output HID lights that are perfect for targeting the next victim.
So what are you going to call it………….. "Team Desert Militia"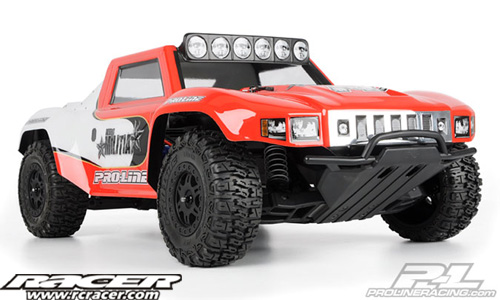 Features
Bold unlimited off road styling ready to convert your Short Course (SC) truck into a high performance open class assault vehicle
Unique design represents an unlimited racer that would be threat at any event.
Made with Crystal Clear Genuine GE Lexan
Made in the USA
Specification
Length:            20.5″ (521mm)
Width:             9.2″ (234mm)
Height:            5.7″ (145mm)
Wheel Base:    12.8″ (325mm)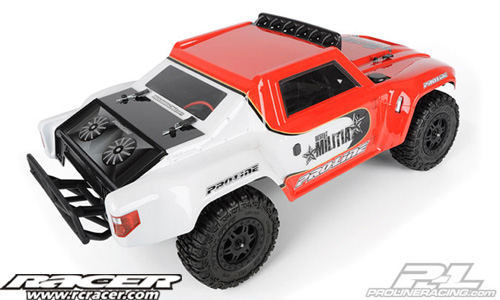 Four step to Race Ready
1.) Clean Body and apply included window mask
2.) Paint then peel the over-spray film off
3.) Sticker your body (decal sheet included)
4.) Mount onto your Slash, Slash 4×4, Ultima SC, SC10 (with trimming) and Blitz (with trimming)
What's Included
Clear Desert Militia Body
Window masks
Militia Decal sheet
3341-00           Pro-Line Desert Militia Clear Body
Please note: All bodies are sold in crystal clear lexan and are painted for advertising purposes only.
Source: Pro-Line