Competition Heat 12V Engine Heater from GB Modelsport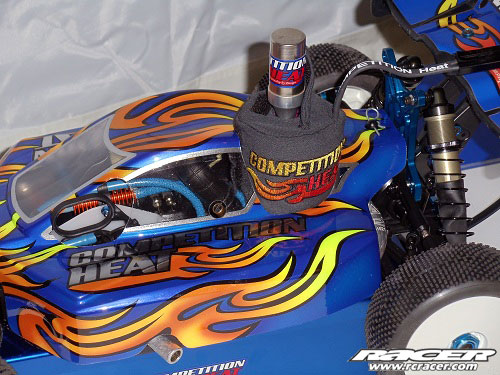 The new Competition Heat 12V Engine Heater is a now available from GB Modelsport, the distributor for the UK and Republic of Ireland. The US-based manufacturer offers this unit in a one size fits all format and can be used on .21 through to .28 sized RC race engines. The specially designed, Kevlar-backed insulated jacket has been optimised especially for the 12V heater. This new heat resistant and flameproof cover is adjustable and has been finished with the new 'Competition Heat' embroidered logo. It is resistant to attack from most chemicals and also resists moisture absorption. Another feature of the heater is that the top port can be closed to improve heat retention during warm-up, or flipped open to facilitate a glow starter being used, or to check engine temperature, without having to remove the heater from the engine. In use, the heater draws approximately 4A, allowing the CH12V to be powered using a starter box's own battery supply, or ideally from a dedicated 11.1V 3S LiPo or 12V leisure battery.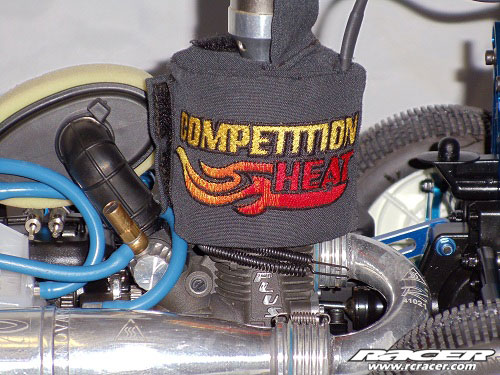 GB Modelsport has all these solutions available from stock and they can be purchased through your local model shop for details and prices. A quick release 90cm power cable is terminated with a Deans Ultra connector for easy and secure battery connection. Other features of the Competition Heat CH12V unit are:
•    Pre-heats all critical engine parts efficiently
•    Also pre-heats chassis and differentials
•    Cuts engine running time by 30 to 40 per cent with consequential reduction in fuel costs
•    Improves engine starting and performance
•    Easier engine tuning
•    Can double engine life expectancy
•    Safe – no metal parts
•    Truly portable, compact and lightweight
•    Hands-free operation
The CV12V is supplied complete with a user guide and a pair of Competition Heat decals.
Source: GB Modelsport