Insight – Losi Micro Brushless Rally Car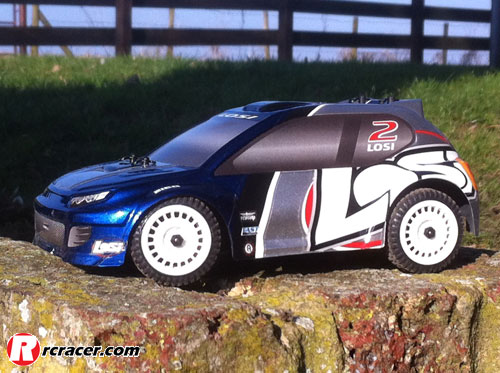 So the guys and girls at Losi have done it again. This time they've taken a cracking little platform in the Micro Rally car and have added a 8750kV brushless motor and 2.4GHz Spektrum radio system into the mix. The new car has prompted a new graphics package, which is rather stunning in its mix of blue, silver and black over the rally car body that really reminds us of the late Colin McRae's prototype R4 car.
Included in the box is everything you need to get up and running like the four-cell 220mAh battery takes roughly 30-minutes to recharge by the kit mains charger. Losi have made battery swaps and recharging easy as the battery compartment is accessible on the bottom of the car by sliding of the battery cover. In fact there is no real need to take the body shell off at all which is great as the body clips are tiny!
If you do remove the shell, you will find not a lot underneath as the main components have all been encased in the chassis with only the bind button and aerial protruding from the casing. The steering servo is a direct connection to the steering rack with a small servo saver in place and is more than adequate for the cars needs.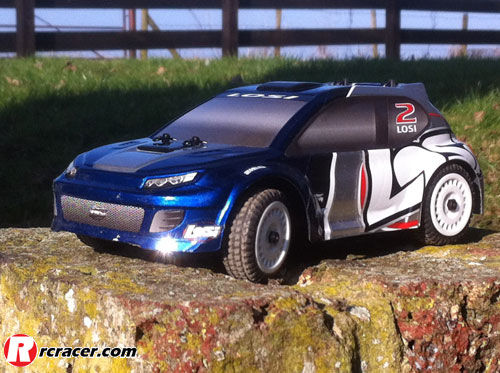 The brushless motor runs to the front and rear gearboxes through a simple centrally mounted driveshaft. There is no centre diff so you have been warned. The two diffs at either end of the shaft are so small we dare not take them out for photographing, so you should only need to take these apart when and if they need repairing. Steel dogbones carry the power to the drive hubs with power being given to the wheels with D-shaped out drives rather then worrying about hex drives or drive pins. The mini OZ Rally-style wheels are shod in a fairly medium density rubber knobbly tyre, which has given good grip through testing except it does become an insane drift machine around the house especially if you have hardwood floors.
Out on the rough stuff we surprised ourselves to find the Rally Car hurtle over gravel considering its relatively low ground clearance and when it hit the Tarmac we could then hit full throttle. Even at top speed the steering isn't so harsh that it will flip the car, which is great for anyone trying an RC Car for the first time. Even with the 220mAh battery, we got around eight minutes from one charge.
These RTR cars are great fun to race alone and even more fun with friends especially if you add Losi's race track (LOSB1624) with the 2.4GHz Spektrum system you wont need to worry about crystal clash. As we said everything is included so you have no excuse not to buy one and have some fun.