Schumacher SupaStox Six-Cell/2S Saddle Version Details Announced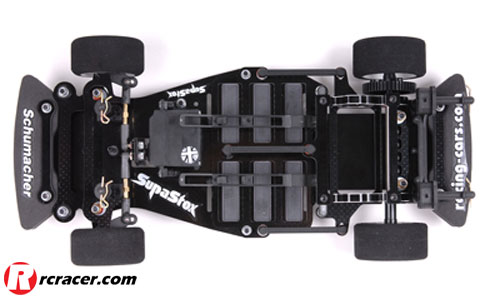 Schumacher last week announced details of their new SupaStox car and now they have pictures of the six-cell/2S LiPo saddle version. This version is designed for six NiMH cells or 2S saddle LiPos and will appeal for use in oval racing. It includes the different battery mounting system, a 3mm chassis and different spring and tyre choice, compared to the four-cell/1S model that Schumacher feel will be more suited as a circuit car.
The SupaStox platform is aimed at high performance using  quality components, but still retains the philosophy of simplicity and low cost. The chassis is tough enough to cope with the full contact element of Bangers, Hot Rods and Saloon Stox, and is also adjustable enough to be perfectly tuned for any circuit or oval tracks.
K131    Schumacher SupaStox Four-Cell/1S/Shorty    £99.95
K132    Schumacher SupaStox Six-Cell/2S Saddle      £99.95
Source: Schumacher