Stiles and Baxter Take BRCA Clubmans National Wins at WLRC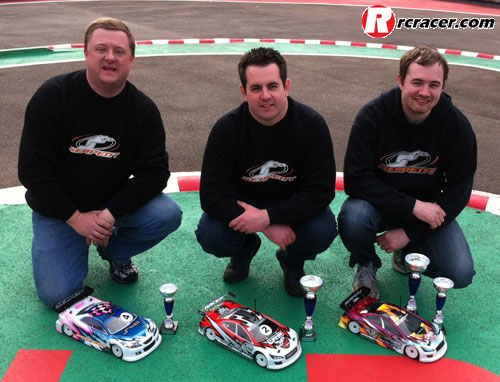 The first round of the BRCA Clubmans Nationals took place at West London Racing Centre at the weekend. The Clubmans Nationals are a series of one-day events for 13.5T and 17.5T stock classes and are primarily aimed as a stepping stone for drivers wishing to progress from club to national level competition. It is hoped that information and advice will be cascaded from experienced drivers down to younger and less experienced competitors, who may even be competing at national level for the first time.
The format for the meeting was open practice in the morning, followed by three rounds of qualifying and two-leg finals for all. The intention was to give the event the feel of a well run club meeting, so there was no timed practice and qualifying was done on an FTQ basis.
The largest and most competitive class was 13.5T with more than 60 entries. Speed controls equipped with timing advance software are permitted for this class and it is a very popular format at the various indoor winter series events held in the UK. Factory Serpent drivers Chris Kerswell and Mark Stiles were competing to support what was a local event for them, but also to help and advise other drivers running Serpent cars at the meeting. They will not be competing at all the rounds, but it is hoped that some other top names will offer their support to the series when it is local to them over the summer.
Chris and Mark shared fastest times all through qualifying, with Mark just missing a track record to go quickest in his final qualifying run from a lowly heat. The pressure was then on Chris, and he duly delivered by setting the fastest time and breaking the track record by more than four seconds. Liam Brooks was impressive and qualified third behind the Serpent duo. Less than a lap covered the top ten in qualifying, emphasising what a close fought and competitive championship this is likely to be in 2012.
The first final saw Chris and Mark break away at the front and Mark immediately began to pile pressure on Chris. A small mistake dropped Mark back slightly, but then a wayward back marker obstructed Chris' car, breaking his spool outdrive. This gifted Mark the lead which he held to take a comfortable win. David Saul finished second ahead of Liam Brooks, which Chris Kerswell just holding onto fourth despite only having three-wheel drive for half the race.
Leg two was a more simple affair; Chris pulled away at the front, while Mark drove a steady race to consolidate his position, knowing that second would be enough to take overall victory. David Saul finished third in the leg, but was six seconds behind the leaders at the end. This gave Mark the overall win ahead of Chris, who beat David Saul into third on qualifying tie break.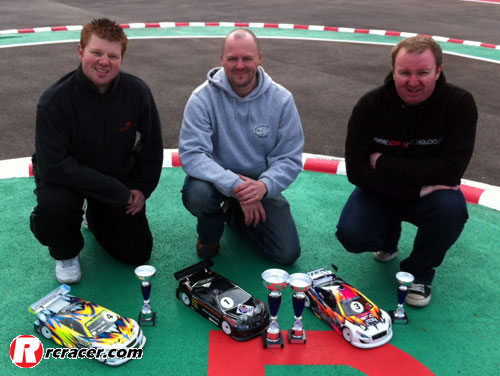 The 17.5T class is for 'blinky' speed controllers with timing advance, which offers a more sedate set-up for those who want it. After a slow start to the day, Rob Baxter topped the time sheets with his Serpent car ahead of Richard Clarke's TOP Photons and Gavin Clinch with another Serpent. Rob Baxter cruised to an easy win in leg one of the A final and was followed home by Gavin Clinch to make it a Serpent one-two. Richard Thorpe finished third, just ahead of front row starter Richard Clarke, who made a good recovery after a bad start. Leg two was a scrappier affair with Richard Thorpe coming out on top ahead of Mark Young's TOP Photon and Rob Baxter. This gave the overall win to Rob, from Richard Thorpe and Gavin Clinch.
Overall the meeting was a success – the format and atmosphere were well received by the competitors, and the weather stayed dry all day to make it a great start to what promises to be a super championship in 2012.