Martin Shines Bright on Wet Weekend at EPR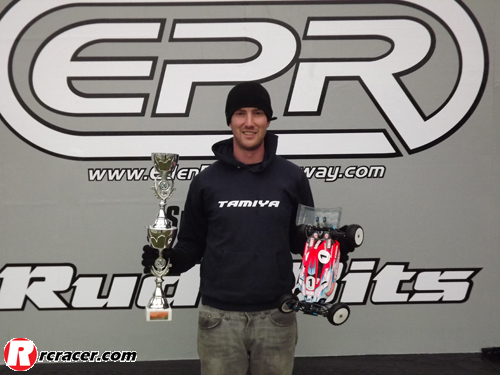 Round three of the 2012 BRCA 1:10 Off-Road Nationals saw a return to Eden Park Raceway. The club had done a lot of work for its return to the series and the racers were met with an extremely well prepared track and organised pit area. And with this being a Bank Holiday weekend in the UK, it was perhaps inevitable that adverse weather would eventually have an effect on the racing…
After a damp start on Saturday for the 2WD event, the track thankfully dried out and it was the super-consistent Lee Martin that took pole position and the win with his Speed Passion-powered Tamiya TRF201 Vega conversion. Second place saw a welcome return to the podium for TLR 22 driver Darren Bloomfield with Paul Bradby in third with his Associated/Centro C4.1.
The 4WD event on Sunday started wet and the drizzle just kept on falling. This left a damp and greasy track for qualifying and it was Lee Martin that again took top spot with his Tamiya TRF511. Lee also won the first two legs of the A final to continue his perfect start to the year in 4WD. Just before the final leg was held, a heavy downpour soaked the track creating much debate. After a meeting between the drivers and the BRCA committee, the race was eventually run to decide the rest of the podium positions. With Lee already on the top step it was Danny McGee who came through for second place overall with Darren Bloomfield again on the podium in third.
Racer will have a full report in the magazine soon.