Tekin Takes Three at Alabama Manufacturer's Shootout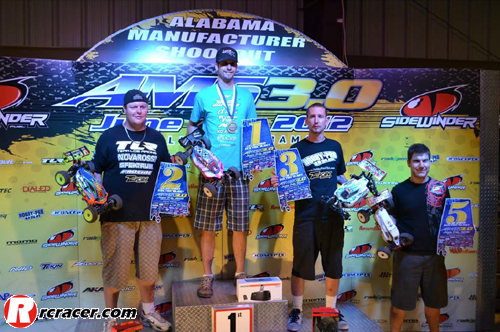 Held in Cullman, the 2012 Alabama Manufacturer's Shootout is a tough race to win. Days start early around 7:30am and run until long into the night with the finals finishing around 1:00am. Tekin dominated the electric classes at the 2012 AMS with class recaps below.
Pro E Buggy would have Tekin factory pilots all over the top positions. Ryan Lutz would take the overall TQ spot going into the double A final format. He would line up with fellow Tekin team mates Jeremy Kortz, Adam Drake, Jesse Robbers, David Joor, Ryan Lopez, and Barry Pettit. This would give Tekin eight out of the 12 spots in the A final. The tone would go off for A1 with Ryan Lutz leading from his TQ position over his team mates. As the race would go on the drivers would settle into their positions with some of the closest racing all weekend. A1 would end with Ryan Lutz leading from tone to tone followed by Jeremy Kortz in second, Adam Drake third, Jesse Robbers fifth, Barry Pettit sixth, and David Joor ninth to round out the top ten. A2 would again be led by Lutz never relinquishing his lead and was followed home by Drake with Robbers fourth, Kortz fifth, Pettit seventh and Lopez eighth. The final results would be a Tekin top three sweep with Lutz, Drake and Kortz.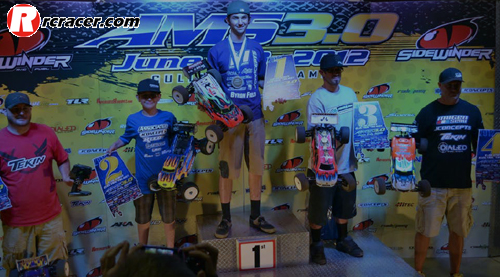 Electric Truggy was filled with top guys from all over the south-east regions. Tekin factory pilot Barry Pettit would TQ and dominate the double A final format taking the top spot in both legs. Right behind him fellow team mates Martin Harrison would take fourth and Mike Malott would take fifth overall.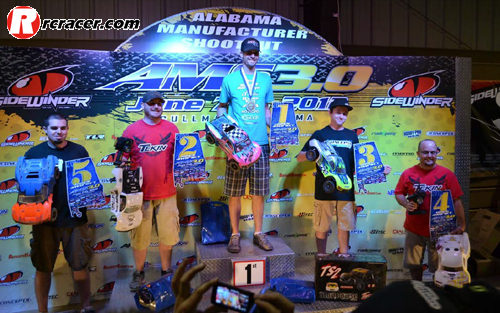 4WD SC would once again be dominated by Tekin drivers. Ryan Lutz would put his Tekin-powered Team Durango DESC410R into the TQ position with lap times only seen by the 1:8 E buggy class. Fellow teammates Mike Malott and Ben Burtle would also take up top positions in qualifying. A1 would be led from start to finish by Ryan Lutz using his RX8 and Pro 4 to power him to over a 17 second lead over second place. Tekin driver Mike Malott would take third followed in fourth by Ben Burtle. A2 was once again Ryan Lutz taking the overall win and title. Tekin team mates Malott would take second overall and Ben Burtle fourth overall. All drivers were using the Tekin Pro 4 and RX8 systems in their SC trucks.
Source: Tekin