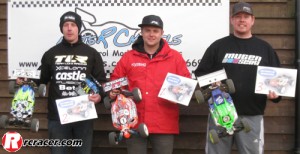 Round one of the 2013 BRCA National series for 1:8 E-buggy and truggy took place at the Herts club on 7 April with a turnout of some 96 drivers. Developments at the venue included new warm-up benches, shielded undercover pit area as well as a new compressor for car cleaning. The Herts track team did an outstanding job to great the track in the best condition for this event so hats off to all that helped including the Westmill Farm team.
Qualifying was dominated by one driver in each class as truggy saw the Novarossi-powered TLR of Darren Bloomfield lead the field whilst Elliott Boots was the star of E-buggy with the LRP-equipped Kyosho.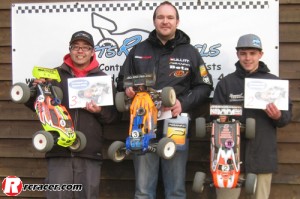 In the finals, the Agama of Jon Hazlewood took victory in truggy after Darren Bloomfield broke. Young gun and Mugen/Beat driver Jack Embling took second place ahead of Tommy Chung's Kyosho in third.
All three legs of the electric class were won by Elliott Boots as TLR's Karl Jackson finished in second and the Mugen of Simon Willetts third.
Herts's Westmill venue will now host round one of the BRCA 1:8 Off-Road National Championships for nitro buggies on 20-21 April with the first round of their summer series the week after.
Source: HNMC