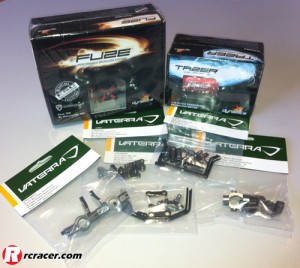 Well it's been a while since we updated the Staff Rides section. Some of them have gone on to better lives whilst others have been simply retired. I too have moved on and got hold of the latest Twin Hammers from Vaterra. This new style of off-road vehicle with its twin-speed gearbox allows on the fly shifting and turns it from a low-speed crawling vehicle to a high-speed rock racer in just the flick of a switch.
A full review appeared recently in the magazine and since then we have had masses of fun, but now it's time to up the game. A few little mods have arrived from third parties, but the biggest change will be a huge box of goodies courtesy of Horizon Hobby UK, the suppliers of the Vaterra range to the UK. They consist of a new Dynamite Fuze speed control, Dynamite Tazer four-pole brushless motor and a whole host of hop-up parts to add onto the chassis. Not only will the new speed control and motor increase the speed, but it will easily allow us the option of choosing whether to run the Twin Hammers on 2S or 3S LiPo batteries.
So keep your eyes peeled and check back soon as we turn the Twin Hammers into an even quicker rock racer!