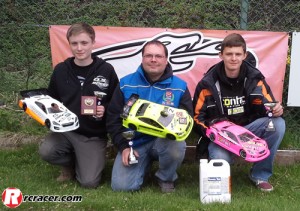 The third round of the British 200mm Championship visited the excellent Halifax circuit in West Yorkshire. The venue has recently undergone big improvements with a new raised pit lane and fantastic covered pits, in preparation for the upcoming 1:8 European Championships.
Saturday's practice started off with many drivers suffering with rear stability on their cars. The traction gradually improved throughout the day and after trying many different set-ups. All the Serpent drivers were very happy with the performance of their 747. It was Mark Green setting the pace getting down to 16.2 second lap times with Joe Kerry very close behind with his 747 on 16.3 second laps.
Onto qualifying and in round one it was Joe who took FTQ with a time of 19 laps 312 just two seconds from the track record. The run was super consistent with just 0.11 seconds between his best and average lap times. Second place went to Mark on 18 laps with Serpent team mate Alex Thurston third, also on 18 laps. In round two only a handful of drivers were able to improve their times so the overall results stayed much the same. In round three and Joe Kerry went close to improving his FTQ time with another 19 lap run. Alex took second just ahead of Mark but neither were able to improve their best times. It was a similar story in the final round of qualifying as only a couple of drivers were able to improve. So Joe took FTQ being the only driver to complete 19 laps throughout the day. Mark would start second, and also Alex third. There was also the 747s of James Conolly, Dom Carter and Paul Bellinger, making a total of six 747s in the main final.
Qualifying
1 Joe Kerry – 19 laps 312.79
2 Mark Green – 18 laps 295.96
3 Alex Thurston – 18 laps 302.01
4 Andy Hastings – 18 laps 306.56
5 James Conolly – 18 laps 308.67
6 Matthew Cook – 18 laps 308.70
7 John Zottl – 18 laps 309.49
8 Dom Carter – 18 laps 310.18
9 Simon Wood – 18 laps 313.82
10 Paul Bellinger – 17 laps 300.35
The final got underway and they raced off in grid order. After a couple of laps Mark forced his way past Joe to take the lead and the two of them then began to pull away from the rest of the field. The battle at the front continued with Mark and Joe on the same lap just a few seconds apart, until the 25-minute mark when one of Joe's pulleys went. This meant the chance for the win was over, but he still had enough of a gap to slowly nurse the car home for second position ahead of Alex Thurston's 747 in third to complete an all 747 podium.
Result
1 Mark Green – Serpent/Novarossi/Xceed
2 Joe Kerry – Serpent/OS/Xceed
3 Alex Thurston – Serpent/IDM/Contact
4 Simon Wood – Xray/Reds/Matrix
5 Dom Carter – Serpent/Novarossi/Contact
6 Andy Hastings – Shepherd/Sonic/Shepherd
7 James Conolly – Serpent/Xceed/Xceed
8 John Zottl – Shepherd/Sonic/Matrix
9 Matthew Cook – Hot Bodies/Novarossi/Contact
10 Paul Bellinger – Serpent/Xceed/Xceed
Round four of the national series will take place at Adur on 25-26 May.
Source: Serpent