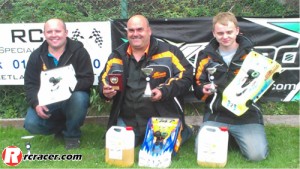 Team Serpent UK scored a double hat trick on 4-5 May by placing the Serpent 747 in the top three places in both the 200mm touring and the 220GT classes at the UK's Halifax track. Round three of the BRCA 1:10 Nitro National Championship was greeted with facility improvements at Halifax with a high level pit lane in use for the first time and the construction of the new covered pitting area well under way in readiness for the 1:8 Euros that will be held in July. The roof wasn't needed though as the whole weekend was hot and sunny. Drivers in the 220GT class were largely tyre testing during the Saturday practice day, although Ben Lungley was experimenting with his gearbox settings. By the end of the day John Russell, the Serpent UK Team Principal was satisfied that all of his cars were well on the pace. Qualifying on Sunday saw schoolboy Adam Crossland setting the early pace by taking TQ in round one, but, not to be out done, fellow Serpent UK team mate Glyn Beal headed the leader board after round two. The pair defended the top places throughout qualifying, seeing off the challenge from Ryk Pryke who simply could not match the pace set by the Serpent 747 220GTs. The A final was always going to be a tight and competitive 30-minute race. Not for Glyn Beal though, who made the race his own with a perfect get away to lead from start to finish, giving him three straight TQ's and three wins in the first three championship meetings of the season. Behind him Adam Crossland, Ryk Pryke and Ben Lungley all had their eyes set on a podium finish. Non-Serpent driver Ryk Pryke was challenging again but a series of reliability issues saw him fall down the order. At the flag it was Ben Lungley who took second place just two seconds ahead of Adam Crossland in third, followed by David Gerard a further 12 seconds adrift.
1 Glyn Beal – Serpent 747/Xceed DS5/Elite RC 16% fuel/Xceed tyres/Kamtec/Sanwa Exzes X
2 Ben Lungley – Serpent 747/Xceed DS5/Xceed tyres/Sanwa Exzes
3 Adam Crossland – Serpent 747/Xceed DS5/Elite RC 16% fuel/Xceed tyres/Sanwa Exzes X
After three rounds of competition Team Serpent UK drivers Glyn Beal and Adam Crossland lead the British Championship. Thanks go to the Halifax team for a superb and perfectly executed meeting, and also to Serpent UK for their continued support of the winning cars.
Source: Serpent