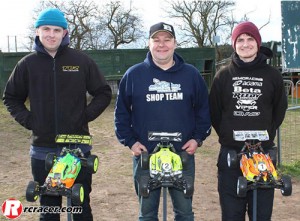 Deerdale played host to round one of the BRCA 1:8 Off-Road E-Buggy National Championship with a great turnout of drivers however, the weather did it's best to ruin the event with strong winds and constant rain.
The club did a great job of running through qualifying under the adverse weather conditions, which would see Tony Truman's Agama take pole followed by the Herts RC Models Mugen of Simon Reeves with Lewis Beach's Sworks rounding out the top three.
The A final would be run in much drier, but windy conditions and saw Simon Reeves Tekin-powered Mugen leap to the front as Tony Truman had an issue. Simon would run at the head of the race for the majority of the time, as Matt Lewis made an unfortunate error with his TLR at the halfway stage whilst leading, and this would see him drop back to second. Simon went on to take the win being the only driver to make it through to 20 laps with Matt Lewis second and Tony Truman recovering from a very bad start to finish third.