The 2014-15 HNMC Winter Series kicked off in October with 12 rounds planned through to March. Only one round was lost to the weather with three rounds held on the Astroturf track, so a great effort by the club.
In nitro buggy it was Simon Reeves who only beat Jamie Clancy at the last round, so the end result saw Simon champion from Jamie and Darren Hayden-Ball third. Fourth was Jim Thompson followed by Barry Abbott, Jamie Reeks, Steve Johnson, Harry Philips, Tom Saggers and John Geaves.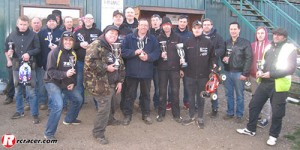 In Clubman Jamie Reeks took the championship from John Geaves, Chris Smoothy, Keith Harris, Howard Elston, Colin Parsfield, Marques Scripp, Jeremy Irving, Luke Garrett and Jamie Cutter.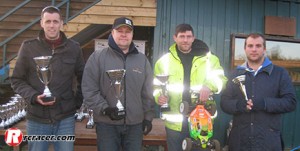 The nitro buggy champion also took the E-buggy win as Simon Reeves won from Richard Cousins, Ian Fuller and Darren Pollard.

Jamie Clancy won the junior buggy championship as Harry Philips was second, Luke Garrett third, Marques Scripps fourth and Oliver Currie fifth.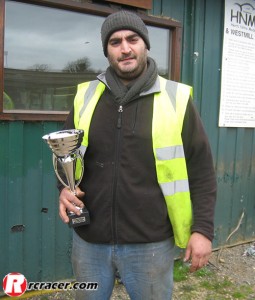 Nick Theo took the truggy class title.
The summer series kicks off on 5 April 2015 and you can book into round one here.
Source: HNMC