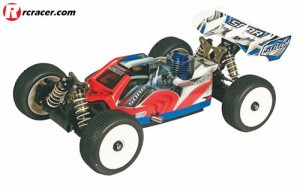 Soar Seiki have teamed up with the well known Graupner Model Company to promote their latest 1:8-ccale competition kit with their 998 buggy. The 998 has been released after lots of hard work in development, making improvements with new moulding technology, thorough plastic testing, and geometry tweaks.
The 998 comes complete with Soar's new DBS (direct ball-steer) steering system with the front steering knuckles combining a captive ball pivot on the bottom, with a ball joint top pivot allowing the use of a easily adjustable top arm turnbuckle to adjust the camber angle.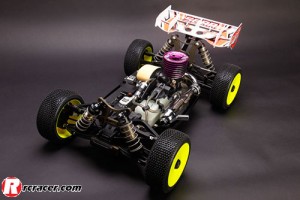 Sparing no expensive Soar have used high quality Swiss 7075-T651 hard anodised aluminium throughout including a 3mm chassis, 4mm front and rear shock towers, suspension mount plates and shock absorber bodies. The threaded big bore shocks come with 3.5mm shock shafts, machined nylon domed pistons, and lock down spring cups. The throttle servo has a different orientation, lying opposed to the chassis flex, removing the stress to the servo.
Graupner Soar 998 Racing Buggy 1:8        £479.99
Source: Logic RC