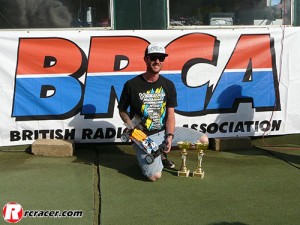 The penultimate round of the BRCA 1:10 Off-Road National series saw a return visit to the TORCH club near Southampton. An all Astroturf track that offers an alternative grip level to other venues we go to creating different challenges for the drivers.
In 2WD on Saturday it was Neil Cragg (Team Associated) who took the pole position from championship rival Lee Martin (Yokomo) with Lee's team mate Tom Cockerill having a return to form for third.
The finals were full of drama as Neil and Lee battled it out at the front, with Tom added into the mix for extra spice. Leg one went to Lee after a late scare as he rolled coming off the large tabletop, but Neil wasn't quite close enough to pass. Leg two was a bit easier for Lee as an early error from Neil gave him a comfortable win and with it the meeting. The final leg would decide the final podium spots and Tom upped his pace. After some errors from the front two he found himself in the lead and withheld a hard charge from Neil to take the leg win and with it second overall, beating Neil on count back. This could prove pivotal in the championship as the title will be decided between Lee and Neil at the final round – and they are now tied on points!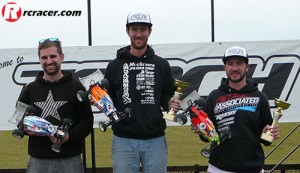 Result – 2WD
1. Lee Martin  – Yokomo
2. Tom Cockerill – Yokomo
3. Neil Cragg – Team Associated
4. Craig Collinson – Team C
5. Elliott Boots – Kyosho
6. Tom Yardy – Team Associated
7. Nathan Waters – Schumacher
8. Danny McGee – Schumacher
9. Richard Lowe – HB hybrid
10. Simon – Moss Yokomo
We've become used to wet 4WD events this year, but despite some overnight rain the track was dry and it was another lovely day.
The title battle was close in this class two with the same protagonists battling it out. Lee Martin (Yokomo) took the upper hand with pole position with perennial rival Neil Cragg (Team Associated) in third. Squeezing between them was the recently crowned European Champion in 1:8 off-road Elliott Boots (Kyosho). After a tough day in 2WD visiting driver from Poland and EOS star Michel Orlowski found his pace to make it safely into the A final.
There was more drama in the these finals as Elliott led most of the first leg until it all went wrong down the straight for the final time as he barrel rolled into the catch fencing, and this gave Lee what was quite a lucky win. The second leg saw the luck go to Neil as Lee and Elliott crashed at exactly the same time on the double gifting him the lead. Lee closed to within half a second by the end but just ran out of time. The final leg saw an early failure for Elliott putting him out of contention as Lee held it together to slowly pull away and take the win. A fighting second overall was Neil's reward for the day ahead of Simon Moss's debut for the Yokomo team, but it wasn't enough to prevent Lee was clinching the 4WD title – congratulations!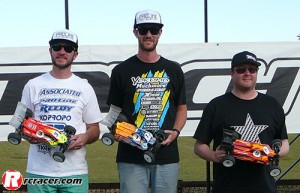 Result – 4WD
Lee Martin – Yokomo
Neil Cragg – Team Associated
Simon Moss – Yokomo
Tom Yardy – Team Associated
Ellis Stafford – TLR
Michel Orlowski – Schumacher
Elliott Boots – Kyosho
Nathan Waters – Schumacher
Craig Collinson – Team C
10. Jack Neal – Schumacher
The final round is at Stotfold in six weeks time, with the small matter of the European Championships at Robin Hood Raceway in between.