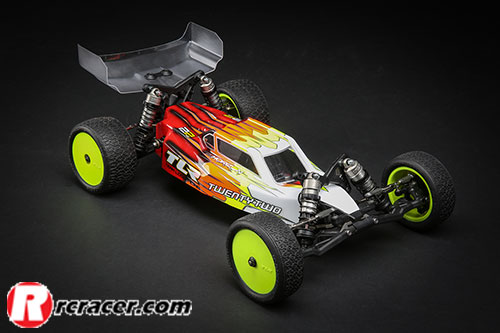 The 22 4.0 kit from TLR has been built on the ingenious engineering of the 22 3.0 buggy by giving racers the ability to adapt the transmission and suspension configurations to any track. Drivers can maximise performance for any surface with the two three-gear transmission options that are included. The proven stand-up option from the 22 3.0 kit provides the best balance for low-to-medium grip surfaces. The all-new laydown option moves the motor a little over 20mm closer to the centre of the chassis. It also features an adjustable-height differential for soil and artificial surfaces.
The new laydown transmission rear shock tower can be flipped for a forward or rearward bias. This means the GenII rear shocks can be mounted either in front of the rear tower and wishbone, or in the traditional location on the back of the wishbone. This has become a popular tuning option for higher- grip surfaces. It also increases forward weight bias, rear end stability, and landing ability.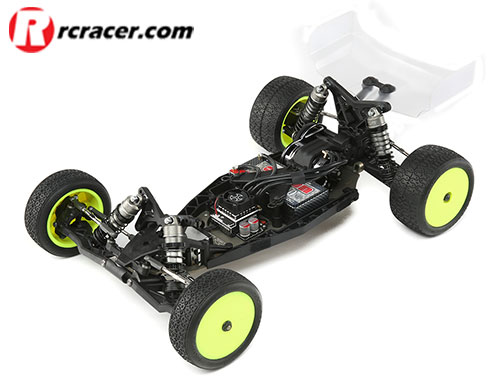 The 22 4.0 buggy was designed to accommodate optional brass ballast weighs under the servo, under the electronics, and under the laydown transmission idler. Other interesting features are the aluminium plate rear hub, Stiffezel suspension components, an updated ball differential, GenII 12mm big bore shocks, lightweight 7075-T6 aluminium chassis and a new 22 4.0 lightweight body.
The 22 4.0 kit comes with optional upgrades included as standard like a milled 7075 aluminium top shaft, motor plates, rear camber block, clamping rear hexes and ball stud spacers throughout. It also includes HRC and LRC front pivots, standard and +3 rear hubs, aluminium bleeder shock caps, machined shock pistons and internals.
Source: Horizon Hobby UK