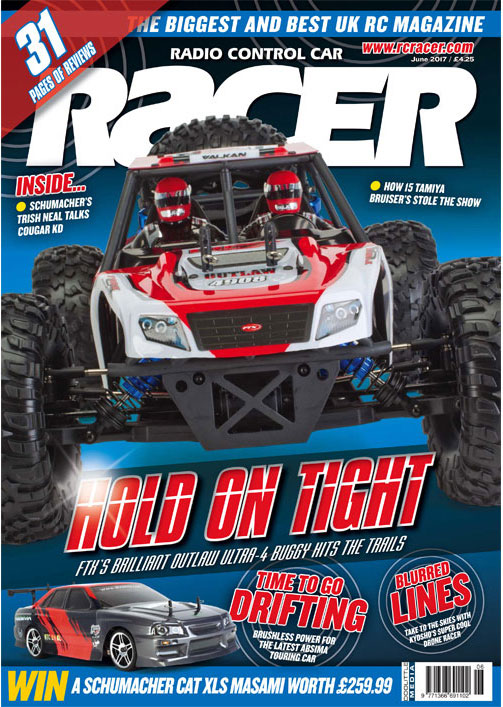 The latest issue of Racer is now available and as usual is packed with reviews and new products. Here is a rundown of the contents of the June 2o17 magazine:
Features
Martin To Infinity, and Beyond – Round one of the 2017 BRCA 1:8 Off-Road Nationals would take place at NDOR and despite a change of chassis sponsor Lee Martin would take the win.
Stand-Up for Dirt – Ben Jemison interviews Schumacher designer Trish Neal to get some background details on the new Cougar KD.
Twelfth Truck – Antix by LRP launches their first vehicle with the 1:12-scale MT-1 electric-powered monster truck that follows their LiPo battery line released in 2016.
The Third SRB – The Ford F150 Ranger XLT was Tamiya's third Special Racing Buggy release that hit the shop's shelves back in 1981. The Ranger, like all of the Tamiya SRBs is an iconic model and followed the Rough Rider and Sand Scorcher.
Three Champions, One Chassis – David Spashett, Craig Nutting and Adam Catchpole wrapped up the 2016-17 1:12 titles all racing a Roche chassis.
PPS – Not only does Olly Jefferies prepare his cars to the highest possible standard, but with his new ProPrepService venture he can do the same for you from a full car rebuild to cutting out a body shell.
The Pull – The latest Toyota Hilux is a bit of beast but we proved it could be pulled by 15 Tamiya Bruisers.
Win a Schumacher CAT XLS Masami – The new CAT XLS Masami has received rave reviews since it was announced at the 2017 Nuremberg Toy Fair and now you can win on worth £259.99.
Absima ATC 2.4 BL – Hot on the wheels of the brushed version of Absima's new 4WD touring car, we now get to test the ATC 2.4 BL brushless version that uses the same proven platform but now with even more speed and performance.
FTX Outlaw – The FTX Outlaw is part crawler, part buggy with looks to kill. Based on the Ultra-4 buggies that race around the desert in the West Coast of the USA, FTX's version puts an RC spin on the design.
Team Associated TC7.1 FT – The TC7.1 is the natural successor to the car that took the BRCA National title last year, and comes packed full of Factory Team options including Genuine Kashima Coat shocks and DCV front driveshafts, fitted to a narrow chassis with one-piece motor mount, floating servo mount and rear gear diff.
Kyosho Drone Racer – We reckon that Kyosho might just have hit upon something very special with the introduction of their new Drone Racer that even the most seasoned and hardened surface enthusiasts can feel at home with.