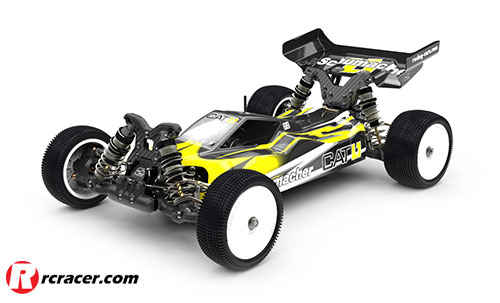 This is the Schumacher car that has been raced by the likes of Michal Orlowski and Jorn Neumann with the former being unbeaten on carpet since the prototypes were first seen at the EOS in Daun, Germany back in January.
The Schumacher CAT L1 is an all new lightweight 4WD off-road buggy developed for high-end racing with the new car being faster than its predecessor with all new fully adjustable suspension geometry, a lower centre of gravity and improved efficiency.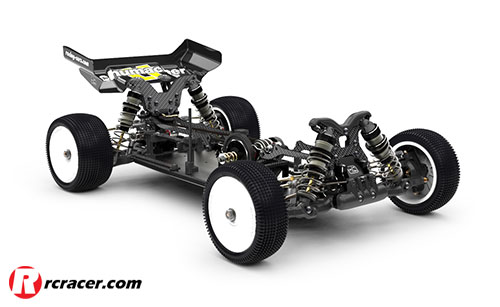 The details published by Schumacher as as follows:
New transmission features:
Three-gear transmission for opposite motor rotation improves agility and steering on high traction surfaces
Lightweight layshaft and side gears
Small, low rotating mass gear differentials with three position height adjustment to adjust for driveshaft plunge and mixed track conditions
Durable polyurethane drivebelts
FAB (Front Adjustable Brake System) with larger 22-tooth pulleys included
Low centre of gravity pinned and centre mounted motor mount
Alloy front transmission housings with steering mounting for increased rigidity
Alloy upper front housings with lower centre of gravity
Alloy rear lower transmission housings with improved belt tensioner
Lighter alloy rear upper housings for low centre of gravity
Lightweight, twin pad slipper clutch with ultra fine adjustment spring
Strong steel universal driveshafts with 5mm axles
Hard anodised 12mm wheel hex
Larger 5x11x4mm layshaft and pulley bearings increase durability and precision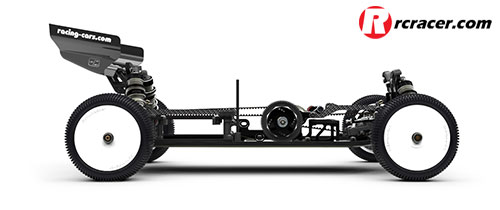 New chassis features:
Hard anodised 2mm 7075-T6 alloy chassis with 4mm carbon stiffeners
Vertical top decks for increased linear flex
Alloy floating servo mount pinned into the chassis
Adjustable shorty locating system. Enables ultra precise fitment
Multiple Ackermann position alloy centre track rod
Cable management system for neater wire installs
Lightweight battery posts
Lower, smaller front bumper – housing front roll bar and suspension
Front wing mount
Aerox body and wing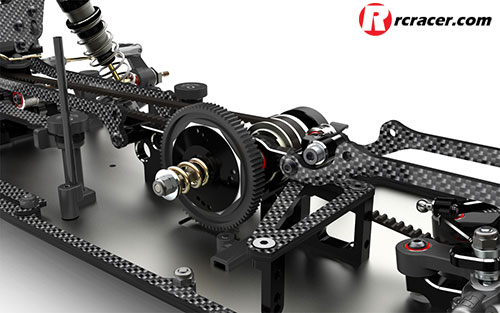 New suspension features:
Wishbones with new improved geometry
Geometry steering yokes
Rear hub carrier featuring new vari-length wishbone and hub geometry
Hub carriers
Stronger 3.5mm diameter front inboard pins
Front pivot strap inserts for front track width adjustment
8-, 10- and 12-degree front rake adjustment
Anti-roll bars included with centralising collar
Strong, rigid 4mm carbon fibre shock brackets
Lightweight front shock tower cover to protect your car and the track from damage
Front wheelbase adjustment for improved tuning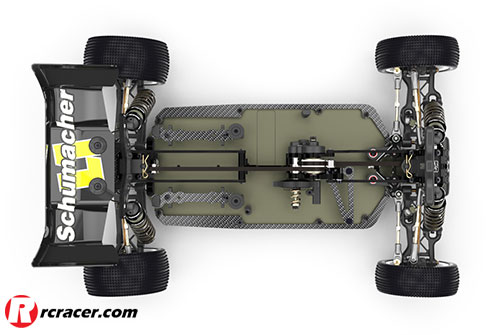 New shock absorber features:
Big bore shocks with big bore Core RC springs, titanium nitride shafts, twin o-ring sealing, optimised shock bodies
Ball mounted two piece shock cap for easier building, maintenance, vented option and lighter weight
Threaded spring collars for better location.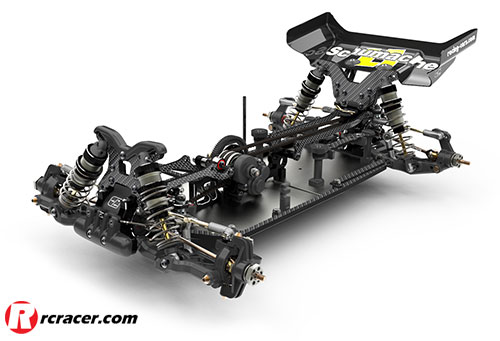 Schumacher estimate the car to be available in April 2018. Meanwhile check out the dedicated webpage here and there will be a Facebook live feature with Development Engineer Tristram Neal on the Schumacher RC Racing page at 19:00 on 21 March 2018.
Look out for a full review in a future issue of Racer.
Source: Schumacher