Quiet Inferno – The VE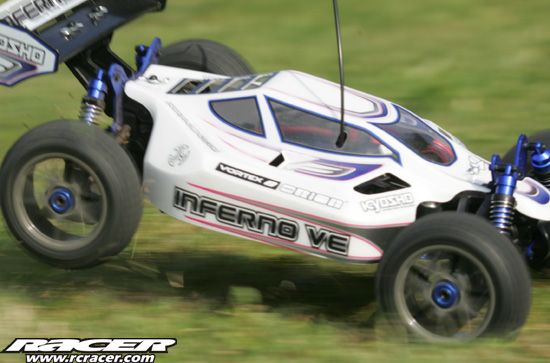 Brushless 1:8 buggies are all the rage at the moment, the combination of speed and performance without the anti-social noise sometimes associated with 1:8 proving to be very alluring for some. While many of the big manufacturers are offering these now, none so far have made it as easy as Kyosho with their recently announced Inferno VE (Vortex Experience) Ready-To-Run buggy.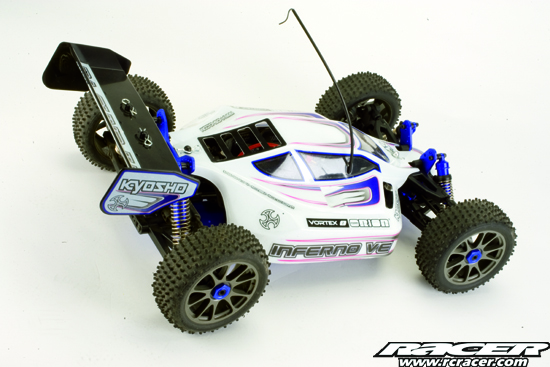 Kyosho's acquisition of Team Orion has given them expertise and experience in the field of brushless technology and we here at Racer were blessed by a visit from Mike Craddock of Kyosho Europe to give us a good look and sound thrashing of this new wagon.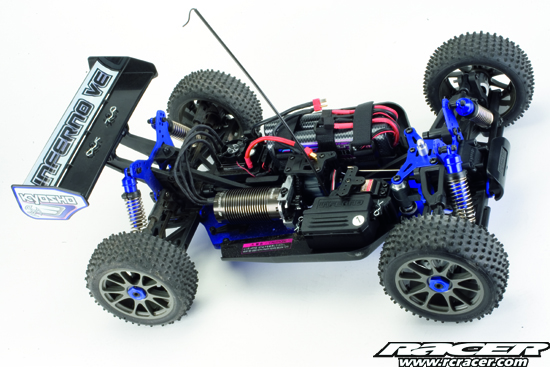 The Inferno VE is based on the Inferno 7.5 with most parts compatible with this chassis. This means that the mechanics of the buggy are proven, Kyosho after all have a great reputation in 1:8 nitro, and the chassis boasts loads of features making it both strong and highly tuneable.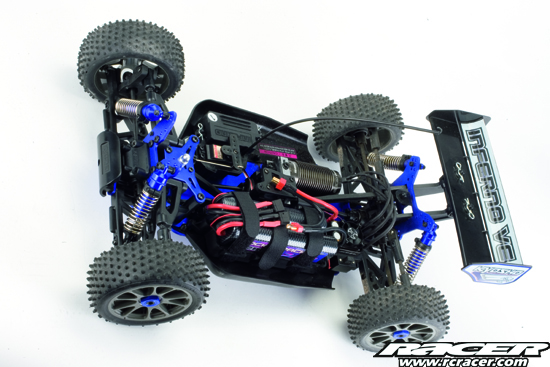 Within the chassis lies heavy duty spiral cut gears for the differentials at the front and rear while the centre differential is absent of the brake discs present on the nitro version, otherwise the transmission remains as per the engine powered relation coming with steel centre gear and universal driveshafts up front. The motor sits in a die-cast mounting with a steel pinion gear, the gear mesh adjusted using an EZ gear mesh mount which makes altering the backlash easy should you change ratios.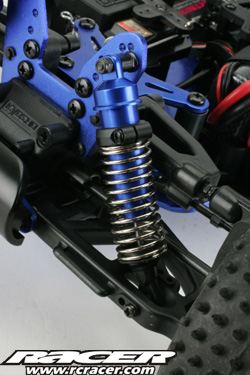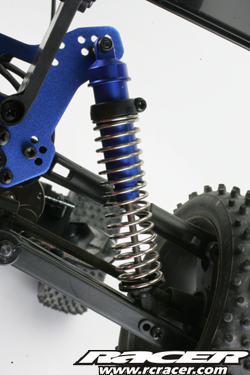 But it's the electric package that makes this Inferno VE different. Using a large 550 size Team Orion Vortex 8 brushless motor which revs to 60,000 rpm coupled to the Vortex 8 racing spec electronic speed controller, the way it is all mounted in the chassis is equally impressive. No additional holes have been made in the inferno chassis plate, the electrics have been cleverly mounted on mouldings or castings to get them in. This means that if you want to convert to nitro or vice versa, it's just the power package that needs changing. The setup is suitable for use with one or two battery packs with LiPo being the obvious choice and Kyosho Europe are doing some great deals on batteries and chargers too should you buy it with your Inferno but we will come to that in a while.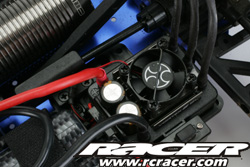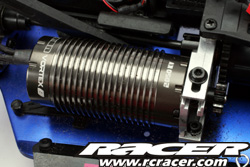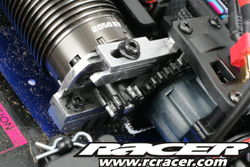 Bar the batteries and charger, the Inferno VE comes as a Readyset so comes complete with high quality radio, the body painted and cut-out, basically in a very short time you will be ready to roll. But what does it go like…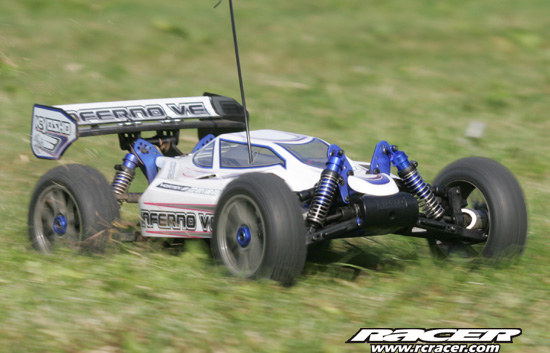 The Inferno VE we drove came powered by two Team Orion 2400 LiPo packs, exactly as in the deal Kyosho Europe are offering. Having never driven one of these 1:8 electric buggies before, I was prepared for disappointment, after all 1:8 should be nitro powered no? I very quickly changed my mind, there seriously seems little in performance difference regarding speed and power over nitro, it's just as quick. The handling seems more stable too, probably due to its lower centre of gravity, cornering hard over bumps that would have a nitro buggy on its roof were no issue to the Inferno VE. In fact the only things we would change to race the buggy would be thicker centre diff oil and slightly thicker oil in the rear dampers. It really is that good out of the box.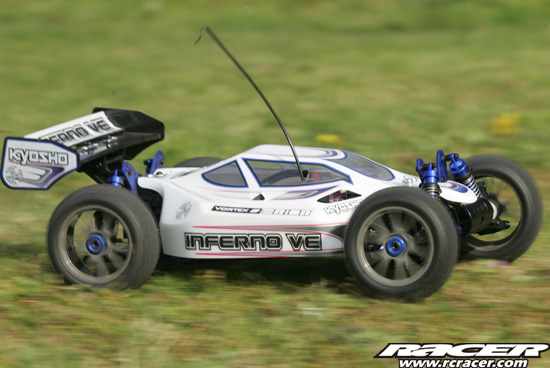 Overheating is a well known issue with brushless but the Orion setup in the Inferno VE shows how much work the two companies have put into giving a true 'plug and play' package. After ten minutes running, the motor was warm, sure, but you could comfortably hold it. Same with the speed controller, and it was a pretty warm day we did our running on…we can't see any worries with heat here which is what normally leads to failure in these systems.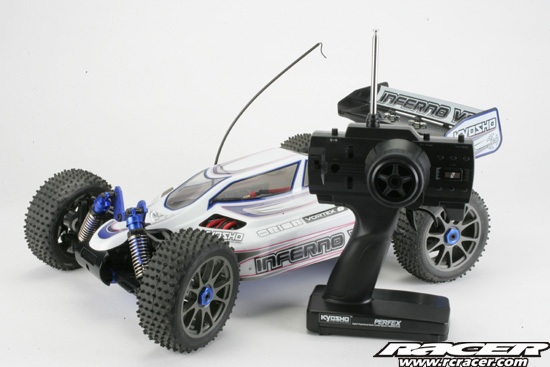 So what do we reckon? Basically the Inferno VE seems a well sorted package with plenty of performance, if you run it on two LiPos you certainly won't be disappointed. Its rapid, hassle free, strong and handles well, it ticks all the right boxes and makes this electric 1:8 lark oh so easy. The electrics seem so well sorted and the street price on the Inferno VE is very good compared to the competition. Add in the deal where you can buy the combo set which includes the Inferno VE Readyset (£354.99), two Orion 2400 LiPo batteries (£37.49 each) and an Orion Advantage charger (£58.90) for £458.99 you make even further savings. Check out Kyosho Europe's Website here for more info.