Nitrocrosscup Germany – English Roadtrip!
Destination: Stoppelhopser Oberhausen e.V track near Dusseldorf.
Team: Elliot Boots, Stewart Wilcox, Sam Taylor, Richard Mckenzie, Mark Beattie, Calum Niblett and yours truly…Rob Cuss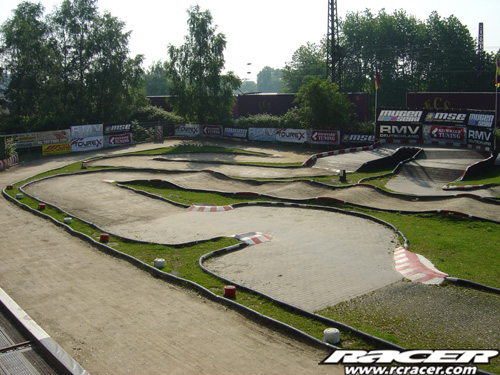 This event was the brainchild of Daniel Reckward of RMV fame, designed solely for Mugen drivers in both truggy and buggy class, the event was also heavily sponsored by Mid Mugen. The event was over 3 days with practice on the Friday qualifying on Saturday and the finals on Sunday, 3 classes were run with Calum, Richard and Mark in Hobby and the rest of us in the Top class for buggies. We had no truggy drivers with us, although Calum ended up winning one as a raffle prize! Each driver recieved a t-shirt,fuel bottle, car stand as part of their entry!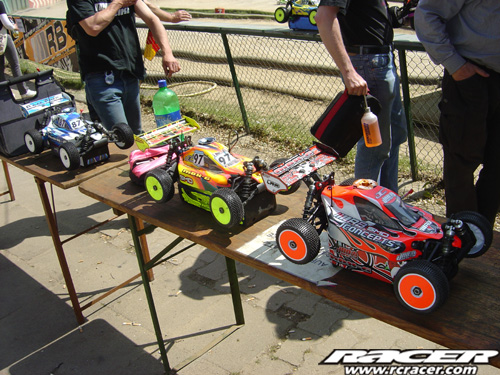 Day 1 – Practice: Elliot and Sam were in the top 5 of the top class, whilst myself and Stewart struggled with the power hungry track. Richard, Mark and Calum were all up in the top ten of the hobby class as well. A good start to the weekend! So we headed back to the hotel to experience the local atmosphere and boy was there plenty!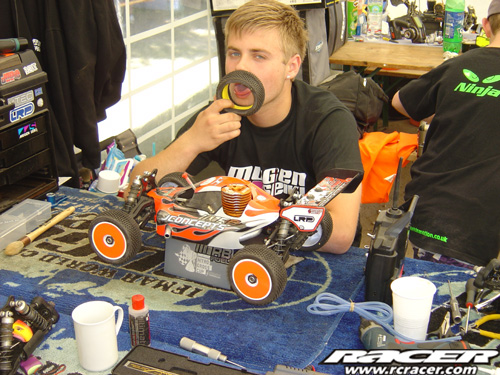 Day 2 – Qualifying: Hobby class went out first and the Brits were fast! Keeping up with the locals on their own turf, they all made it straight into the semi's which was a terrific effort. Sam and Elliot also qualified straight into the semi's for the top class, Elliot was just pipped for TQ by local Marcus Feldman. Stewart and myself struggled a little and ended up in the quarter finals. With everyone happy we ventured into to town to find the most amazing bar with great service and a massive range of drinks! We did behave….kind of, honest guv!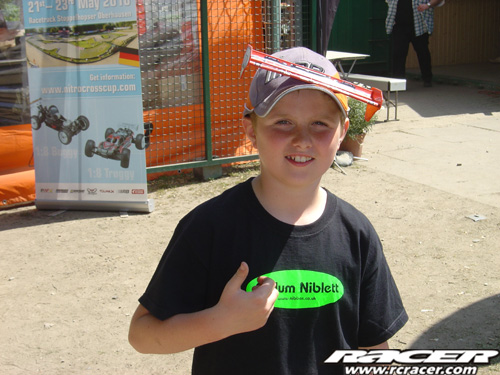 Day 3 – Finals: Well what can I say this was the most entertaining day. I went out first, I started 8th and was 2nd by the 5th corner – top stuff i thought, however the locals are fond of the term rubbing's racing so I ended up missing out, looking back on it I just was not quick enough. Stewart however fared much better and cruised to his quarter final. Hobby class was out next, we had a small issue with Calum's engine just before his warm up so the team did a complete engine change in less than 4mins and got him back out, to which he promptly flew round to bump up with ease…not bad for a 10 yr old! Richard and Mark also bumped up with relative ease making it 3 UK drivers in the hobby final….top stuff!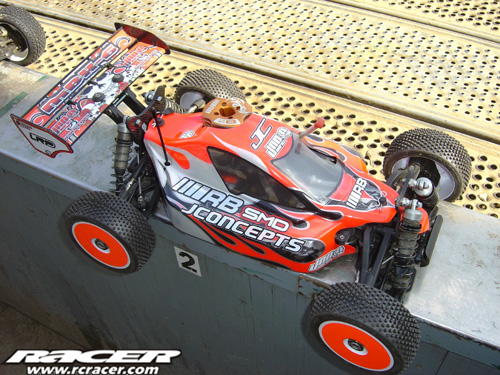 Top semis were up next with Elliot, Sam and Stewart all in the same final so us pit monkeys were super busy! Elliot won it by a big margin, Sam flamed out while in 2nd and dropped to 5th which was the last bump up spot and Stewart just missed out finishing in 6th spot.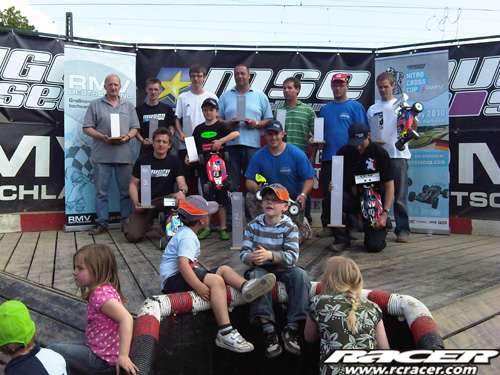 The Hobby main final was entertaining with flameouts, radio issues happening because of the heat and the fact is was an hour long final. Calum was going well until he clipped a pipe a little hard and damaged his car, the guys got it fixed and back out. Mark was having a great run until he flamed out due to the heat but drove a great race after that to claw his way back to fifth. Rich had some radio issues that cause him to drop from the lead, by a super fast pit crew got him back out for him to finish 2nd!!! Great job guys.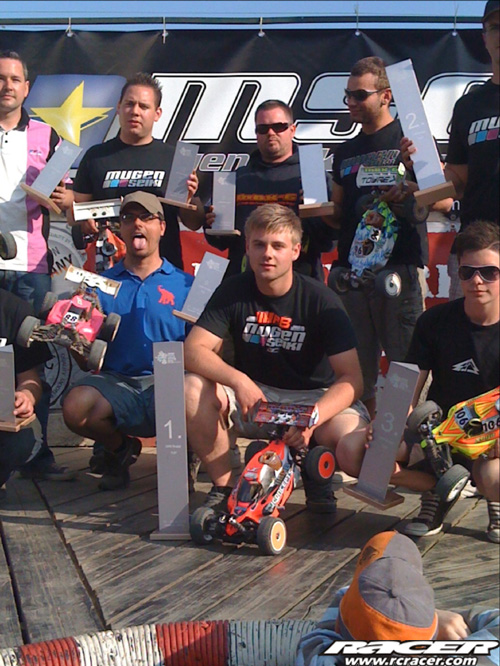 Top final was all about Mr Boots…2nd lap in, he drives round the outside of the leader through the fast sweeper to take the lead…and then laps 2nd place 3 times!! Frankly it was ridiculous to watch the locals were going nuts as this never happens! Well done Elliot!! Sam drove well to finish 8th.
All in all a great roadtrip!!!
{gallery}gallery/May10/260510nitrocross{/gallery}