DEX410 2010 Spec Kit Now Shipping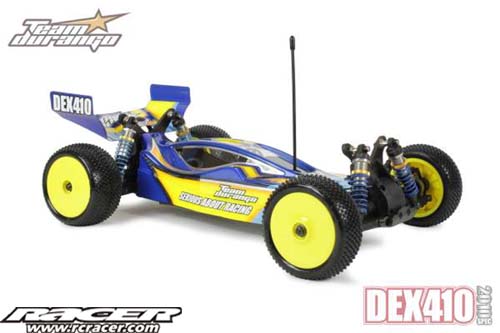 Team Durango's DEX410 2010 Spec is arguably the highest-specification 1:10 scale RC racing buggy available today.
Out-of-the-box, this car is the ultimate piece of kit for the serious, very serious and professional RC racer.  Team Durango have taken all of the best parts of the 2009 World Championship winning design and made some components even better than before, as well as ensuring that 2010 ROAR spec 25mm high LiPos sit in the car perfectly.
The list of changes and improvements over the 2009 version of the DEX410 include:
25mm high LiPo battery strap
Revised steering blocks with large 13mm outer ball bearings
2.0mm CVD driveshafts front, rear and down the centre
Steel front brace posts
Larger diameter, steel crunch spacers
Deeper hex wheels
Revised diff shims
Kit now includes 100000CST and 50000CST differential oils for the geared diffs
Now available from your local Team Durango distributor
Source: Team Durango