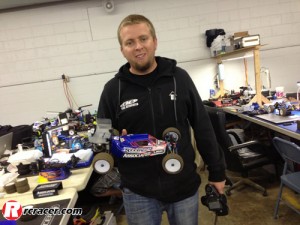 The 2013 JConcepts Indoor National Series kicked off in the "Show-Me" state just outside of St Louis, Missouri at the one and only SmacTrac. For 2013, the SmacTrac crew went above and beyond by laying down a fresh new flowing, fast, and fun track layout with a full paint job from infield to corner curb markings.
Each year the JConcepts Winter Indoor National has gained in popularity, this year reaching over 300 entries! A packed house full of not only the Midwest's best, but a stacked field of the nation's best making the trip to join in the battle as well. Team Associated was in full-force with Ryan Maifield, Steven Hartson, and Brent Thielke from the west coast, Team Kyosho with Missouri resident Jared Tebo and fellow team mate Cody Turner, TLR with Cody Hollis and JP Richards, and a seemingly never ending list of top Midwest drivers from surrounding states.
In Mod 2WD buggy it was a close battle all weekend long throughout qualifying with Team Associated/JConcepts driver, Ryan Maifield, taking his B4.2 to the top of qualifying. Not far behind was the Kyosho duo of Jared Tebo and Cody Turner. As the tone sounded for A1 and A2, Maifield showed his confidence in his equipment as he rocketed out front and never looked back. Two wins in a row sealed the deal for Maifield to take the 2WD Mod Buggy overall win. Tebo would finish up the overall in second with an A3 win, and team mate Cody Turner taking the final podium spot.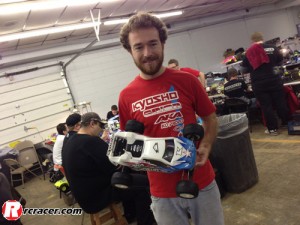 Mod Stadium Truck was yet another battle of the best. After practice on Friday it looked to be anyone's race to win with drivers turning laps only hundredths of a second apart. Qualifying was owned by Team Kyosho's Jared Tebo with lightning fast runs round after round giving him the TQ spot. Tebo would launch out of the gate in both A1 and A2 for a solid victory leaving the rest of the field to battle for the second and third place overall spots. Maifield put in two consistent second place finishes, but struggled slightly in A3, as TLR driver, Cody Hollis, would capture the win. When the points were all tallied, Maifield would finish up second overall with Hollis in third.
4WD Mod Buggy was packed with action and drivers. It would once again be Team Associated/JConcepts driver, Ryan Maifield, piloting his B44.2 to the top of qualifying for his second TQ of the weekend. As A1 kicked off, it was all Ryan Maifield. Ryan hooked up and left the field behind as he drove to victory. A2 was once again a similar situation, as Maifield had the edge on the field to take the win and secure the overall victory. Sitting out A3, Ryan watched as the battle raged on between Tebo, Hartson, Paige, and Wheeler for the second and third overall places. Tebo would take the win with Paige finishing second however, after the points were tallied it would be Jared Tebo finishing an overall second and Steven Hartson third, due to his impressive A1 and A2 finishes.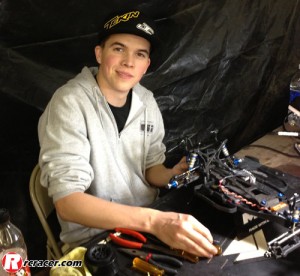 In addition to Maifield's double win for JConcepts, team driver Matt Olson once again proved he is one of the fastest 4WD short course racers in the nation by taking his MIP/JConcepts truck to a solid TQ and overall victory winning A1 and A2 of the high flying Pro4 class.
A long weekend of racing in the chilly state of Missouri, but despite the temperatures outside, the racing was hotter than ever inside. A big thank you to the entire SmacTrac crew for an exceptional race program and racetrack, and a big thank you to all 30 plus entries who kept the racing exciting!
Source: JConcepts