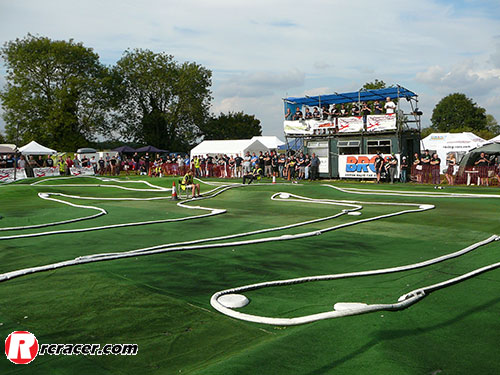 The final round of the BRCA Off-Road National Series saw the racers enjoying some rare wonderful Bank Holiday weekend weather at Stotfold in Hertfordshire. Neil Cragg had already been crowned 2WD champion, but the 4WD title was set for a showdown between Neil and close friend/rival Lee Martin.
The track for 2WD was very open and fast and it saw Neil Cragg take three of the four qualifying rounds with his Team Associated B6, but Lee Martin and his Yokomo YZ-2 took the other round with the fastest time of the day so it certainly wasn't a foregone conclusion.
In the end though Neil took all three legs of the A final relatively comfortably to return winning form and finish the season with a very impressive six TQ's and five wins from the six rounds.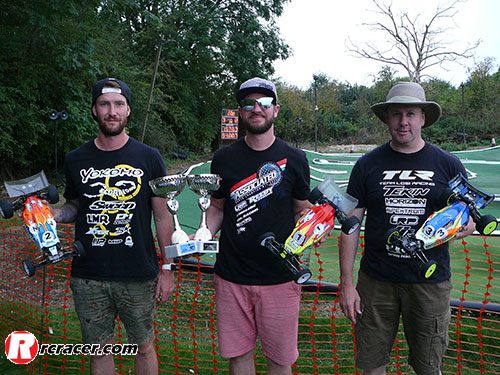 Result – 2WD
Neil Cragg – Team Associated
Lee Martin – Yokomo
Ellis Stafford – TLR
Tom Cockerill – Yokomo
 Tom Yardy – Schumacher
Kevin Lee – PR Racing
Ben Jemison – Schumacher
Kit Jones – Schumacher
Simon Moss – Serpent
Danny McGee – Schumacher
So in the championship Neil confirmed his 2WD title in style with Lee in second overall and Tom Yardy in third.
All eyes on Sunday were focused on the championship battle with the meeting basically being a straight fight between the two and the winner takes all. Qualifying though was a very one-sided affair in favour of Lee and his Yokomo shaft-drive development car as he took the clean sweep to secure pole position and the all-important extra point that goes with it. Neil and his Team Associated B64 only finished two rounds at speed, but it was still enough to line up on the front row to keep Lee on his toes.
Lee confirmed his pace in the first leg and took an easy win after a costly mistake from Neil. In the second leg though it was Lee that cracked and Neil took the win to set up a nail-biting decider. It was a clean start and Lee got into his groove quickly, not allowing Neil a chance to get close. Both of them were driving flat out, but this time there were no mistakes as Lee came home first to seal the win.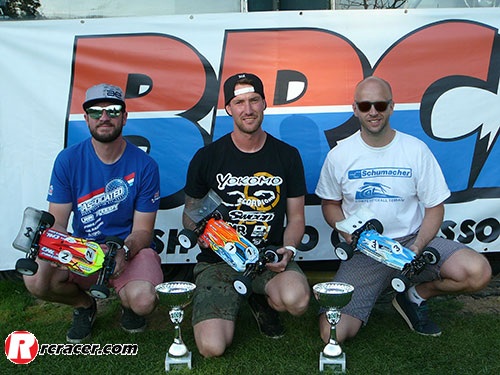 Result – 4WD
Lee Martin – Yokomo
Neil Cragg – Team Associated
Danny McGee – Schumacher
Kevin Lee – PR Racing
Craig Collinson – Team C
Tom Cockerill – Yokomo
Simon Moss – Serpent
Nathan Waters – Xray
Josh Holdsworth – Team C
Kit Jones – Schumacher
After a nail biting 4WD season, Lee regained his early season form and with the vital Stotfold win he sealed another national title. Neil took a fighting but slightly disappointed second with Tom Yardy again completing the podium after a solid year.
It's been another cracking season and we want to say a big thanks to all those who help make this series one of the best in the world. See you next year!